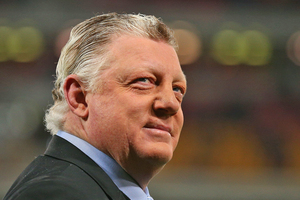 NSW captain Paul Gallen believes it would be great for the Blues if Phil Gould returned to coaching at State of Origin level next year.
The Blues are on the lookout for a new coach after Ricky Stuart announced over the weekend he was stepping down from the role.
Reports of Stuart's departure was news to Gallen, who was in Auckland for Cronulla's win over the Warriors on Sunday.
"I didn't know about it. I've been over here," said Gallen when asked about Stuart's announcement made in his Sunday column for News Limited.
"Origin's gone now. Ricky's got Parramatta to think about and I've got Cronulla to think about."
Candidates such as former players Laurie Daley, Brad Fittler and Trent Barrett have also been thrown up.
While he didn't want to speculate, Gallen's interest was sparked with the mention of the Blues' most successful coach Gould, who is currently the general manager of Penrith.
"That'd be great if he put his hand up for it. That's up to him I suppose. I wouldn't be saying no to him if he put his hand up," Gallen said.
"I think he's New South Wales' greatest coach."
Former NSW captain Benny Elias, who played in successful Blues teams under Gould in the 1990s, didn't pull any punches when asked who he thought was the best man for the job.
"If you go for a job interview people look at your CV and Gus's CV is the best of all the candidates," Elias said.
"He's very vocal and having him back would generate enormous interest and he brings a lot of belief and positive energy.
"He's a very talented State of Origin coach. You've got to get three games out of players from all walks of life and he can do that.
"I don't know if his Panthers' commitments will impede him but if Gus wants it then it's Gus first and daylight second and I think candidates like Laurie (Daley) would be the first to admit that."
Elias said Gould is the person to do what Stuart couldn't - break Queensland's winning run which stretched to seven series this year.
"It's very important he takes it for the right reasons and the reason I suppose would be to try and stop the rot," Elias said.
"Ricky hasn't been successful, he's won two out six (games), they are not impressive results. It's a tough gig but Gus knows what's needed to get it done."