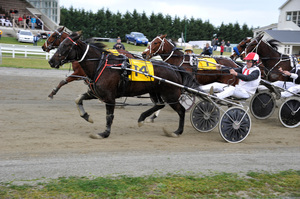 Eddie Boy provided a highlight of the Kurow meeting held at Oamaru yesterday with a 9-length win in a maiden race. He led over the last 1900m of 2600m and careered away in the closing stages.
He was having his third start after proving wayward. He was qualified by Kirk Larsen but disgraced himself in two starts. "I couldn't carry on with him on my own so I syndicated him," Winton breeder Marty Fairbairn said.
He took Dave Robinson, of Invercargill, Robert Symon, of Waianawa and Gus Johnson, of Invercargill into the ownership and they sent the horse to Graeme Anderson and Amber Hoffman at Westwood.
Eddie Boy had staged a big run for second at Forbury Park on June 21 in his first outing from his new stable.
The 5-year-old gelding by Elsu from Bonnie Deal, is a half brother to Best Deal Yet, who won for Fairbairn from the Larsen stable in November.
Best Deal Yet was sold to Merv and Meg Butterworth, of Melbourne, and transferred to Mark Purdon and Grant Payne for whom he has won the Premiers Cup, Gold Coast Derby and Queensland Derby at his past three starts.
Ten Too and Champagne Driller won yesterday at their first starts. Ten Too was transferred to the Woodend Beach stable of Robert Dunn 10 days earlier by part-owner and trainer Mark Smolenski.
"Ten Too was perfectly rigged and I havn't changed a thing with him," John Dunn, the stable foreman, said.
Champagne Driller who led all the way is a 3-year-old filly bred to Northern Hemisphere time. She is trained by Regan Todd at Burnham and raced by Dave Clemence, of Kaiapoi, who bought the daughter of Christian Cullen-Champagne Party for $11,000 as a yearling at the dispersal of Cullen Breeding.
Motu Speedy Star caused his second major upset with success in the Kurow Cup at odds of 47-1, overcoming a 30m handicap in his first race for three months. He is trained at Oamaru by Eion Latimer.
Motu Speedy Star won the Waimate Cup last December at odds of 88-1. Brad Williamson, the 18-year-old junior driver, has driven him in both wins.