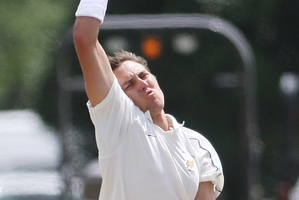 Trent Boult. Photo / Supplied
Young paceman gives Black Caps a fighting chance with impressive display on drying wicket against West Indies.
On a day of New Zealand sporting glory, it was perhaps the unlikeliest success.
On a drying wicket, the Black Caps' young pace attack redeemed their wilting team, as New Zealand scrapped to save the test series against the West Indies.
There is another unlikely element coming up - the halting of a test match at a strategically scheduled drinks break so the West Indies can watch Usain Bolt and his Caribbean compatriots in the Olympic 100m final.
New Zealand had their own Bo(u)lt. Young paceman Trent Boult started the fall of wickets at almost Olympic pace, helped by the highly impressive Tim Southee. The young four-piece pace unit, also including Doug Bracewell and Neil Wagner, produced a sustained, controlled attack to dismiss the West Indies for 209, before the Black Caps' top order earned a lead of 110 with eight wickets in hand.
"The guys knew their roles and today we definitely fulfilled those roles," said satisfied left-armer Boult, who finished the day with figures of 3-58.
The West Indies had started the day with a full complement of wickets but only Marlon Samuels, with an exemplary 123, appeared comfortable with the Black Caps bowlers.
As the wickets of his batting partners fell regularly, Samuels resisted rash stroke play. He patiently accumulated his century before smashing four sixes to close out the West Indian innings dramatically.
"It's a special time for Jamaica - the 50th [anniversary of Jamaican independence]," he said. "I had to come out here and give my piece of celebration to my people." It was Samuels' first test century on home soil.
But the day belonged to the Black Caps and defending their modest first innings total of 260 took a display of maturity rarely witnessed from a New Zealand pace attack in recent times.
"The plan was to use the shorter ball and try and get them caught in the crease," said Boult. "Then just look to hit that wicket around the fourth stump area."
From the beginning of the day's play the signs were good. Doug Bracewell immediately settled into a testing line, and both West Indian openers looked uncomfortable reading the new ball. In the opening overs, danger man Chris Gayle caught an edge, with the ball dropping just short of the Black Caps' gully.
Shortly after, the New Zealanders had their first wicket, when Kieran Powell nicked a swinging Boult delivery and was caught at slip. Boult had another in his next over, with a 'not out' LBW decision overruled on review, sending Assad Fudadin back into the stands.
"That first hour in that first session helped set the tone. We used the new ball really well and I think that's all we can put it down to," said Boult. "We put the pressure on early and managed to maintain it throughout the day."
That pressure was maintained by Tim Southee and, though the Northern Districts bowler took just two wickets, his performance was compelling. His consistent line and tempered aggression left Gayle unusually passive and indecisive in the crease. He pushed several times at probing Southee deliveries before he was dropped at first slip in a catch that would have more comfortably been claimed by the Black Caps' wicketkeeper. Southee resumed his line, and after 50 balls the usually aggressive Gayle had mustered a meagre eight runs.
Southee's pressure was unrelenting and paid dividends when Gayle was cramped by Neil Wagner a few overs later, the ball spooning meekly to BJ Watling for a simple catch.
What followed was an all-round exercise in efficient test match bowling. The four Black Caps pacemen maintained probing lengths, benefiting from an unreliable Kingston bounce. When Shivnarine Chanderpaul was dismissed by Southee with the score at just 82, the Black Caps could sense a first innings lead. As much as the performance covered for the first innings' errors of the Black Caps' top order, it spelt confirmation for the team's selectors, who chose to enter the match without a specialist spin bowler and without Chris Martin. While the home team selected two spinners, the Caps opted only for Kane Williamson as their fifth bowling option.