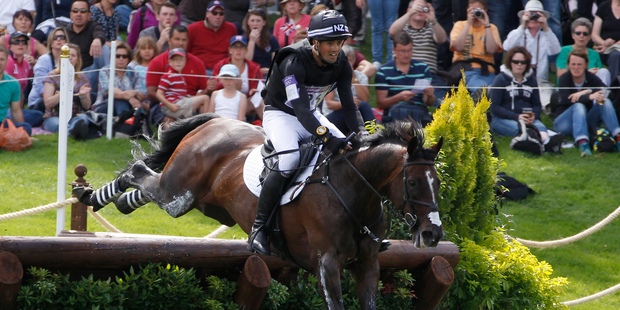 Jonathan Paget has a horse called Bulletproof and, even if there is no such thing in equestrian circles as a "bulletproof" certainty, the 28-year-old rider could be New Zealand's next big thing.
His exploits were rather hidden by the heroics of Mark Todd during the New Zealand team's bronze medal this week and, even though winning an Olympic bronze is the highlight of Paget's career thus far, he doesn't want to look back too much. He's looking ahead.
It's not guaranteed Todd will still be around in four years' time - most believe he won't be able to resist an eighth Olympics even though he will be 60 - but Paget definitely will be.
He is now No 3 in the world rankings - Andrew Nicholson is No 1 - and finished 10th in the individual competition at Greenwich Park last week. It was almost a surprise to see him pick up penalty points in both the cross country and show jumping phases because Paget expected to go clear.
Many, including Nicholson, are adamant Paget will enjoy that success in the future. A relative novice to the sport - he is a former Sydney bricklayer who initially went to rodeo school because he wanted to learn how to ride - Paget has quickly established himself as one of the world's best. He has clearly impressed his team-mates who have been effusive in their praise.
"It's nice to hear it," Paget admitted. "But I don't really think too much about it. When they say things like that, it gives you a little more confidence that the legends of the sport think you are going to be good. You listen to it, absorb it and appreciate it but you can't sit back."
Eventing New Zealand have big plans too and have a number of promising riders in the stables including Clarke Jonhstone, Jonelle Richards and Lucy Jackson. But Paget is considered the most promising of them all.
Some have even talked about him as the man to pick up from Todd when he eventually moves on.
"I'm not trying to reflect too much [on what happened this week] because I want to move forward," he said. "I have flashbacks from the weekend, and it was a great weekend because it took a couple of years to get there, but I just want to improve. I want to starting winning four-star events and then win consistently at it. I would also like to build a team of horses who are consistently competitive at major four-star events.
"Rio is definitely in my mind and I already have a couple of horses tagged for that. I want to keep the chain going."
Clifton Promise, who he rode at the Olympics, and Clifton Lush are already at a top level and his other horse, Bulletproof, he expects to be just that.
He desperately hopes Todd sticks around.
"I hope we keep Mark, Andrew and Caroline for as long as possible," he said. "It's an absolute privilege to ride beside them. It's inspiring and the things you can pick up are priceless. Having them around will make the team develop quicker, too."
- APNZ