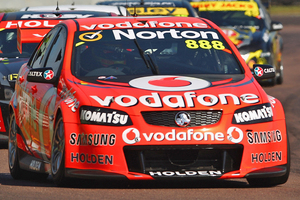 There's no place like home for Craig Lowndes.
The Holden veteran kept his V8 Supercars championship hopes alive by claiming the opening 140km race of the Ipswich round on Saturday, maintaining his Midas touch at his home track.
A day that began with engine dramas during practice ended with Lowndes all smiles after race win No.10 - and fourth straight - at Queensland Raceway.
Everything fell into place for Lowndes who claimed pole and dominated the 45-lap race, finishing almost two seconds ahead of Ford's Mark Winterbottom while series leader Jamie Whincup recovered from a nightmare start to claim third.
Winning at Ipswich has become a habit for Lowndes, but the veteran was more concerned with breaking another - being teammate Whincup's championship bridesmaid.
Lowndes (1646 points) is fourth in the drivers' standings but chipped 21 points away from Whincup (1923) who leads the championship midway through the season ahead of Winterbottom (1832) and Ford's Will Davison (1756), who was sixth on Saturday.
Lowndes was not giving up on championship No.4 - and first since 1999 - especially after giving Whincup an almighty scare last year.
"Anything's possible. Last year it came down to 35 points (difference)," Lowndes said.
"Until we are mathematically out of the equation we will keep pushing on.
"(But) I know Jamie will bounce back tomorrow."
Alarm bells were ringing when Lowndes limped into the pits with smoke billowing from his Holden after completing just two laps of Saturday's final practice session.
The engine had to be replaced ahead of qualifying.
"Thankfully we had that extra practice session today, normally that would be the qualifying session," Lowndes said of his engine troubles.
"It was hectic but the guys were calm and methodically checked everything."
Whincup also had his anxious moments.
After being second fastest in qualifying, Whincup was swamped on the front row of the grid at the start after his Holden suffered clutch problems.
But the three-time champion recovered magnificently, plowing through the field after switching to the faster soft tyres when David Reynolds and Michael Caruso found the sand and the safety car emerged on the second lap.
"I had a clutch issue, it sounds like an excuse. I know my starts have not been flash but that was a real curve ball," Whincup said.
It also marked a great comeback by Ford teammates Winterbottom and Davison who endured a nightmare Ipswich round last year, failing to finish in the top 10 in any of the three races.
"Sometimes second is as good as a win - that's a big turnaround for our team," Winterbottom said.
The round concludes with a 200km race on Sunday.
- AAP