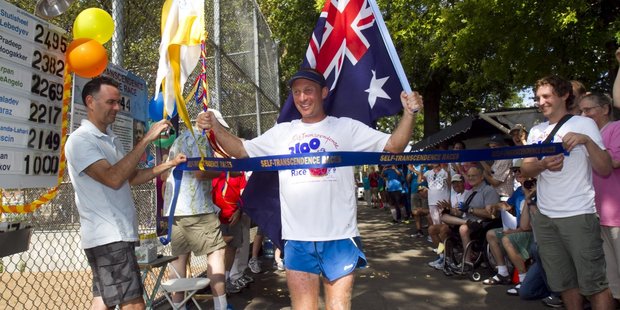 For not the first time the runner pressed forth.
Jogging down Grand Central Parkway in suburban New York, he turned left on to 164th Place. He jogged another 100m or so and turned left again on to Abigail Adams Ave, then left on to 168th St. He was steady and assured, not sprinting or stretching in his stride. And with one last left turn the man was back where he started.
In this week of Olympic everything, even the most determined of sports haters must've been hard-pressed to avoid the games. But for all the sudden interest in Greco-Roman wrestling and Eastern European water polo squads, a sporting event to challenge the London epic slipped by to noticeably less fanfare.
An ocean away from the podiums in a rather more humble setting, one of the world's most extraordinary athletes finished what is surely the world's most extraordinary race. After 43 days of continuous running, having beaten 10 other competitors to the finish, 35-year old Australian Grahak Cunningham spoke in a small voice to a pocket of enthusiastic supporters.
"I'm so grateful for finishing," he said, thanking his supporters. "And that's all."
His audience laughed appreciatively. Cunningham was spent.
The self-transcendence race is 3100 miles (4989km) long, or roughly the same distance as running from Cape Reinga to Bluff two-and-a-half times. Established by spiritual leader and fitness fanatic Sri Chinmoy, every year it's typically run by a dozen or so of his keenest followers. They have 52 days to complete the race, running 18 hours a day through heat waves, storms, aching boredom and with aching bones.
Every day for the past month and a half, Cunningham ran an average of 114km. A race in which each competitor wears through 10 pairs of running shoes is not an entirely appealing prospect.
I remember an apt analysis likening my jogging technique to that of a wounded pterodactyl, and there are few things less enticing than the thought of running a marathon with the word "ultra" slipped in front of it.
Even more so considering the New York course, described as a lap around a suburban New York block, is repeated and repeated and repeated. One lap is 883m. Each competitor runs that single lap 5649 times. As the name suggests, it is less a journey around the block, than a journey through one's own head. In his fourth self-transcendence, Cunningham knew what to expect. He lost toenails, his achilles caused him problems and he developed a ghastly rash. His feet swelled, he shed weight. But with 10 other competitors, he kept running until his self-transcendence was achieved.
In the hours after he finished, I asked a race organiser how Cunningham was faring.
"He's really wiped out."
Fair cop, I thought.
But the race itself still isn't over. As you lap up the last of the Olympics, there are still competitors trudging around and around a block in New York City. What a journey it must be.
And though every four years we marvel at gold medallists and our species' finest athletic specimens, in suburban New York a handful of runners know that no muscle can match the strength of that blobby mass between your ears.