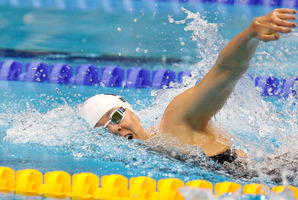 The New Zealand medal drought in the pool has now been extended to 20 years.
Swimming is one of the core sports of the Games but questions need to be asked by the High Performance Sport New Zealand board whether they can afford to keep funding it as one of the six targeted sports in the next Olympic cycle.
The chances seem minimal, even if it is the area of expertise for HPSNZ chief executive and double Olympic medley gold medallist Alex Baumann. Sparc, the predecessor to HPSNZ, had long claimed a medal and five finals would be the minimum return required by Swimming New Zealand to match the almost $7.5 million (including performance enhancement grants) of funding received this Olympic cycle.
There were no medals and only Lauren Boyle (twice, coming a fine fourth in her 800m freestyle event) reached a final - meaning swimming will not prosper from these Games. Danyon Loader's 1996 double gold medal legacy is reaching mythical status.
Other sports such as equestrian with a team bronze medal already look worthy of investment as a targeted sport. Canoeing may also come more into the mix, with New Zealand still capable of securing its best Olympic Games medal haul since the 13 at Seoul in 1988.
That is not to denigrate the current swimming elite. They have had to work within a sometimes poisonous environment at the national coaching and administrative level which has resulted in three reviews in the past four years, trying to establish what lies within SNZ's murky political depths.
Few results and solutions have been forthcoming as stakeholders await the upshot of the latest review - the Moller Report - and its 17 recommendations. The past 11 months have also seen the exit of chairman Murray Coulter, 'performances and pathways' manager Jan Cameron and chief executive Mike Byrne.
Boyle anchored this London swim team by featuring in two finals. She finished last in the 400m freestyle final and fourth in the 800m final, 2.4 seconds off a medal. Aside from her and a couple of semifinal showings by breaststroker Glenn Snyders, there were few thrills from the remainder of the 16-strong team. New Zealanders contested 20 events, with five producing personal bests (three of them by Boyle).
Some talk suggested Boyle should have helped the 4x200m freestyle relay to get them to the final. However, a total of six swimmers became members of that team after the Herald on Sunday revealed trials would take place the day before the Olympic meet began. Other athletes wanted to contest a place. There can be no excuses once you make that team and miss the final.
In a further indictment on the national programme, Boyle did most of her preparation for these Olympics in the United States, working towards a degree at the University of California, Berkeley. She was mentored by the US women's swim coach Teri McKeever. Boyle has been under the coaching of Mark Regan since May 2011 and continued to progress, making three of New Zealand's four finals at last year's world championships.
Regan was understandably protective of his charge, telling the Herald on Sunday in January he didn't want his athletes "carrying an extra 10kg of public expectation into the Olympics. I don't give a rat's arse what people want, the only thing we can ask [of athletes] is for them to do their best. I just want to see them touch the wall, take their goggles off and smile because they have done a personal best."
Regan has a point but the taxpayer should not have to fund those journeys of self-discovery. Those may well have to come from genuine passion over the next four years if HPSNZ pull out. Taxpayers do not want to be carrying extra weight either, unless it is gold, silver or bronze medals.