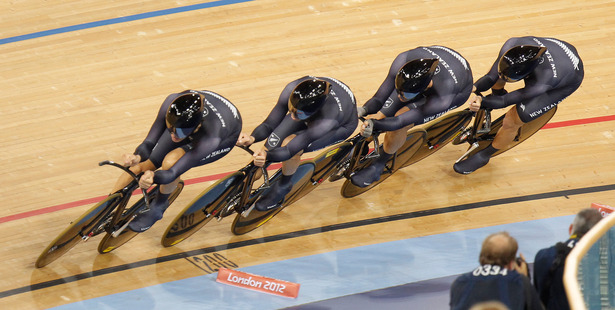 Olympic bronze medallist and team pursuit strongman Jesse Sergent has bid au revoir to the track, maybe for good, as he concentrates on a full-time road career.
Long-time coach Tim Carswell is also leaving to take up a coaching role with the UCI, world cycling's governing body, in Switzerland. Sam Bewley has signalled he is unlikely to return to the boards any time soon.
So yesterday's team pursuit bronze at the Olympic Velodrome was more than a prize for four years' work - it could signal the end of an era.
As dynamic and spectator-friendly as track cycling might be, it doesn't pay the bills. The road does. It's why Marc Ryan will not begrudge Bewley and Sergent their decision, or Hayden Roulston before them. Along with Aaron Gate and Westley Gough, a reserve for the ride-off, Ryan will form the nucleus of a new pursuit programme.
"I'll be back on the track, for sure," Ryan said. "There'll be a new coach and I want to make sure things are ticking along nicely."
With track cycling on a boom in this country, talent is not a problem but Bewley and Sergent will be sorely missed as New Zealand tries to bridge the chasm that has formed between Great Britain and the rest of the world.
Bewley, 25, has signed a contract with Australian pro team GreenEdge.
"I'm not going to say I'm definitely finished on the track but the next couple of years I really want to focus on my road career and establish myself in the pro road scene," Bewley said.
Sergent, 24, is predicted to have the brightest future of them all. He took part in his first Grand Tour this year - the Giro d'Italia with RadioShack-Nissan-Trek - and distinguished himself by finishing on the podium in the final time trial, an effort that caught the eye of those who matter in Europe.
"It was a big, hard race and I definitely came out of it stronger," he said. "It takes years and years to become a good rider in those three-week tours."
He leaves the boards of the velodrome with no regrets. In yesterday's bronze medal victory over Russia, Sergent was superb. At the midpoint of the 4km race, Russia had taken a slight lead. Sergent then took it upon himself to ride an almost unheard of two-and-a-half lap stint at lead-out. By the time he had pulled up the boards, New Zealand were in a near-unbeatable position and the riders behind him had enjoyed a wee rest (the lead-out rider expends 100 per cent energy, rider two 70 per cent and those in three and four 65 per cent).
They won in 3m 55.952, more than 2s quicker than Russia.
"The plan was to do a double and the coach started walking the line so we knew whereabouts the Russians were. I suppose I just kind of got my race head on and just wanted to race them. I did two-and-a-half and then at the end I just wanted to go to the line to push them more and more and more. It's a little bit different when you race in the team. You find that little bit extra."
New Zealand was expected to win bronze here so it could be argued they did nothing more than tread water - but that would belittle the efforts of Great Britain, who were near-unbelievable.
They lopped close to a full second off the world record they had set a day earlier in winning the final in 3m 51.659s. They are re-defining the way pursuiting is, well, pursued. Their approach is highly scientific and highly expensive, with a heavy emphasis on reducing lactic levels in blood between races.
"We knew they were going to be good here," Ryan said. "They're perfectionists the way they ride and they delivered. Respect to them really. It's all you can do."Meanwhile, Timaru cyclist Shane Archbold and his mullet made a strong start to the men's omnium after setting the second-fastest time in the 250m flying start last night. The omnium is often referred to as the decathlon of cycling and is contested over two days and six events. Archbold is a medal contender, having finished second at last year's world championships and fifth earlier this year, and his first event put him in a good position.
His time of 13.112s over the 250m was bettered only by Great Britain's Ed Clancy, who won gold in the team pursuit yesterday but was quicker than world champion Glenn O'Shea of Australia. The 30km points race is the second event on the card and was due to be contested early this morning.