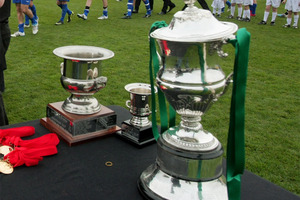 The Chatham Cup knockout football competition is one of New Zealand's longest running national sports events, having been contested annually since 1923. Tradition dictates that when your club is knocked out, you follow the fortunes of your victors - and in turn their conquerors - all the way to the final.
Join us on our own Cup odyssey this year, as we report on cup fortunes in a similar vein. We started with first-time entrant Hamilton's Clube Alegria in the qualification round, who were beaten 2-0 by Westlake Boys High. We then followed the schoolboys as they overcame Drury 4-1 in the first round, then Manurewa 7-2 in the second before their run ended with a 2-0 defeat to Birkenhead. We then followed Birkenhead as they overcame Wanderers 4-1 in the sweet 16 before losing to Lower Hutt 3-2 in the quarter final. We'll continue following Lower Hutt's path (or whoever beats them) through to the final on August 25-26.
Qualifiers: Clube Alegria - New kids face off against schoolboys
First round: Big school vs little club
Second round: Divided loyalties
Third round: How good are Westlake Boys High?
Sweet 16 - Birkenhead's not so secret weapon
*************************
There's an old adage in football that nobody remembers Cup semifinal losers.
Which is perhaps just as well, because if they did, they might find it faintly depressing that both clubs in Sunday's intriguing Chatham Cup semifinal between Caversham and Lower Hutt City have a dire record in the final four of the national knockout competition.
Neither club has ever made the final. In 2003 Lower Hutt lost 3-2 in the semis to eventual winner University Mt-Wellington, while Caversham could be excused for having an even bigger mental block, having fallen five times at this stage, including four in the past six years.
With neither club able to get beyond a semi, there is an erectile dysfunction gag just waiting to be dreamed up here.
But at least one team gets to break its duck this year. And while Caversham have a useful home advantage at the Caledonian Ground, Lower Hutt have already proven their ability on the road with a stirring 3-2 away win over Birkenhead.
If anything can be taken from that match, it is that Hutt may just have a winner in waiting in strapping young Hutt striker Hamish Watson has evolved as a real handful in winter competition.
From a distance Watson looks much older than his 19 years with his solid build and powerful, hard-running, bruising style which saw him score one goal and set two up in Hutt's 3-2 win over Birkenhead.
While he made a few appearances for Hawke's Bay last summer - and is currently a member of the Phoenix's school of excellence programme - Caversham should beware that it could be the Chatham Cup where he really makes his name.
"He's pretty physical," says Lower Hutt coach Brendan McIntyre - quickly adding "but legal".
"He's like an old-school centre forward and he's a good finisher as well. There were a few times against Birkenhead when he got free from his marker but the (pitch) water held him up a little bit,
"I've had the pleasure of coaching him for the last four years and he's just got better and better. There's not many players like him about.
"I think he's unique and makes people stand up and say 'I want to see more of that'. He's physical, knocks people over and makes life hard for defenders.
"We are trying to get him to work a little bit harder off the ball, but apart from that the rest of his game is great. His influence on the team is huge and he captains us as well."
Hutt led 2-0 against Birkenhead in the quarterfinals before the home team stormed back to level, only for Hutt to snatch a late winner.
"We were absolutely delighted with the result," McIntyre said.
"I thought the football was great and their club put on a great day. Unfortunately the conditions weren't the best, but I thought it was a real typical New Zealand cup tie.
"I think everybody wanted to draw us or Caversham at home and obviously we have got each other, and we have to make the long trip to Dunedin but that's just part of Cup football."
McIntyre has no illusions about the task.
"We know Dunedin teams are particularly good at home. But if we can go down there and turn in a performance like we did against Birkenhead then, fingers crossed, hopefully it will be good enough.
"I said to the lads at training on Monday night, just relax and try and play and hopefully that will be good enough on the day. I'd hate for them to go down there and freeze - but they might freeze anyway because of the weather."
Indeed, it snowed during Dunedin Tech's home quarterfinal against Bay Olympic at the Caledonian last year.
Lower Hutt could have Scott Basalaj back from the Olympics, but it will be touch and go whether he makes the journey south, with the rest of the team already in Dunedin before he ships in.
"He would need to get a 7pm flight from Wellington to Dunedin, so it's not an ideal scenario for him but we will just have to wait and see. At this stage unlikely, but if he jumps off the flight and he's a box of birds then we will consider it.
"Stand-in keeper Steve Byard was a fourth-in-line goalkeeping choice - but in the quarterfinal he was fantastic and ended up being our man of the match.
"After the game he said he was running on adrenaline and I told him that's what Cup football is about, and in some cases I think its quite good to come in under those circumstances."
Caversham are unbeaten this season, their only blips being four draws. They lead their league by one point over Dunedin Tech with three games to go. But a more intangible winning streak has come in having avoided any away games in the Cup.
"Last year we had a quarter in Auckland and a semi in Napier and that cost an arm and a leg," said Cavvy coach Richard Murray. "So it's quite nice to have a good run and not have to go charging to the club treasurer to look for funding.
"We're happy with the draw, much the same as they would be happy drawing us. They wanted us at home and we wanted them at home. We wanted to stay away from the big boys - in Central and Miramar (the other semifinalists).
As to Caversham's inability to make the final, Murray cites several reasons.
"We lose one or two key players back to the US college system at this time of year and it usually comes around at semifinal time. This year we have just lost Tom Jackson who has been one of our main strike weapons.
"Part of it is because we have a high turn over of players because we are a varsity based team. So we lose our experience each year. We probably have five or six in our current squad who have played in a semifinal before.
"Also I don't think the league is that strong down here. We probably have four or five games out of the 16 in a season that are tough. When the northern teams enter the national draw they are used to playing tough games week in week out whereas that's not the case for us.
"In saying that we've probably batted above our weight in getting to five semifinals."
Striker Ant Hancock is not expected to recover from a muscle strain in time for the match, meaning the veteran Tim Cook is likely to play up front.
There are prospects for solid Dunedin support.
"We had a really good crowd last round (against Manukau) and I expect more to turn up on Sunday - weather providing. The weather hasn't been that flash this week and we have had to train indoors."
Meanwhile Watson is eyeing a big Cup run as an adjunct to bigger and better things.
"A year and a half ago I was in the Phoenix A team - where I basically just trained with them, and this year as well," he said. "It's been a good experience.
"They (Phoenix) are dangling the carrot of professional football but there are nine of us there, so we don't really know what their intentions are or how many of us they want to sign."
In the interim Watson is employed by Lower Hutt, coaching in schools.
"My goal is to be a professional footballer and I'm putting everything into it. This is a massive game, the biggest of my live, and our whole team is excited for it.
"We're all young and can't wait."
And while Watson may not yet appreciate it, "waiting" might be very much the operative word, with Lower Hutt flying to Christchurch, bussing to Dunedin, then facing a road trip back to Christchurch after the match, and a 7am Monday flight to Wellington.
But it would be worth it for the prize of a berth in the final.
On that count, one club definitely gets to break new ground here.
And the other, it just gets forgotten.
Caversham v Lower Hutt AFC
At Caledonian, Dunedin:
Sunday, Kick-off: 1pm
Tracking the Chatham Cup:
Qualification: Clube Alegria 0 - Westlake 2
Round One: Drury United 1 - Westlake 4
Round Two: Westlake 7 - Manurewa 2
Round Three: Birkenhead 2 - Westlake 0
Round Four: Birkenhead 4 - Wanderers 1
Quarterfinal: Birkenhead 2 - Lower Hutt 3