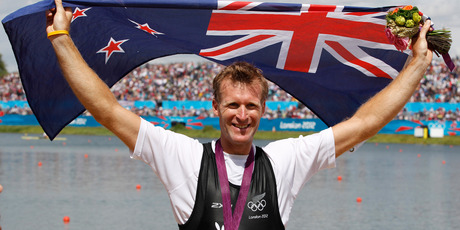 As the Peter Snell-Murray Halberg "two Olympic gold medals in one hour" comparisons rolled in, Mahe Drysdale reflected on his own Halberg moment after completing the second golden leg on Dorney Lake last night. Eric Murray and Hamish Bond had blitzed through the men's pair field to perform the Snell component.
Drysdale vomited his way through the early morning. No illness like Beijing, just pure nerves. It's something the 33-year-old says has only happened once before; ahead of this year's national championship finals when he had to fling open the car door on the way to the course.
Once at Dorney Lake he assumed the confidence Halberg did 52 years ago in Rome ahead of the 5000m. He figured all he had to do was look around and beat "scared men"; 11 in Halberg's case, five in Drysdale's.
"It was one of the worst mornings of my life," Drysdale said. "But thinking of what Sir Murray said to us ahead of the 2004 Games, I just tried to walk around the boat park looking confident. It was good advice because you're going through the ringer. Then I saw Ondrej [silver medallist Synek] in his [warm-up] room with his head down and I realised he was in a similar situation to me."
In another parallel to September 2, 1960, Drysdale, Bond and Murray have the same coach - Dick Tonks.
Snell and Halberg had Arthur Lydiard. Tonks has always worked off the Lydiard coaching mantra. Miles make champions. It was no different on August 3, 2012.
"Dick just told me to get in front and hold him [Synek] off," Drysdale said.
"It was typical Dick really. Yesterday he told me I was in for a hell of a fight. I'm not sure he had a huge amount of confidence in me this time," he laughed.
"He said when I went, make it decisive but hold something for the end. I decided to make a push in the third 500m then with 500m to go I would throw everything at it. By the last 200m I was counting the strokes, hoping the line would come up before Ondrej did."
As five-time Olympic gold medallist Sir Steven Redgrave patted him on the back in passing, Drysdale said he hardly needed motivation followinf the illness which left him needing urgent medical treatment after earning bronze in Beijing.
"It was the one thing that was missing from my career. It dawned on me in the last few days that I failed to achieve what wanted in Beijing. I'm proud of the medal but sport is fickle and you get so few [Olympic] opportunities in your life. There had also started to be comparisons to [West German sculler] Peter-Michael Kolbe who won five world championships but never a gold at an Olympics."
Drysdale paid tribute to Tonks' coaching mastery as he completed a 12-year mission at the top level of the sport over three Olympic Games.
"He's the cornerstone of the rowing programme. He's helped crews win gold medals at every Olympics since 2000 [a honours board that now includes Rob Waddell, Georgina Earl, Caroline Meyer, Eric Murray, Hamish Bond and Drysdale]. That's a phenomenal record. He started with little money, it was totally amateur but Dick and his athletes did the work and the funding came. We wouldn't be in this position without him.
"We've had our ups and downs [Drysdale was coached by Calvin Ferguson at the 2008 Olympics] but he's allowed me to go and do different things because my body [with a degenerative back condition] couldn't do what he required on the rowing course. We found another way because he's always believed in me."
Drysdale is likely to take next year off and attempt a Coast-to-coast or Ironman type event. He has not ruled out defending his single sculls title in Rio de Janeiro.
By Andrew Alderson

Email

Andrew