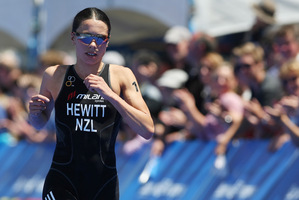 Andrea Hewitt can't remember the emotions that were no doubt coursing through her when she stood on the start line in Beijing four years ago. In fact, the only thing that sticks in her mind are the "funny Chinese caps" they were wearing, made of an unfamiliar fabric.
It's fair to say life has changed a lot in the intervening years for the 30-year-old. She has a lot more on her mind than the latest in swimwear, such as the small matter of getting on the podium at Hyde Park tonight.
Hewitt came eighth in the triathlon four years ago but her entire outlook on the sport has changed.
"I can't remember what training I did four years ago. It doesn't even come into my mind as I've improved so much, especially on my run," she says.
"I feel more comfortable racing and being more in control.
"Back then, 10km was really far to run and now I'm actually pacing myself, knowing what I can do."
She's spent the past six weeks out of competition, preparing specifically to have the race of her life tonight.
"It is just another race, but I've prepared a lot more for this one.
"Normally during the world series we're racing once or twice a month and I'll go in a little bit tired, not knowing if I'll be able to sprint at the end of the race or have the legs on the bike.
"For this race, I've rested a lot more than ever and trained for this specifically."
In what is ostensibly an individual sport, Hewitt will have Nicky Samuels and Kate McIlroy for support, assistance that can be useful in the swim and bike legs.
With such a pancake-flat course around Hyde Park, however, nobody is under any illusions it's going to come down to a drag race on the run.
"Ten kilometres flat around the lake," Hewitt said. "It was a low 33m last year."
It's not the ideal set-up for New Zealand athletes, who traditionally like the strength courses, notably Athens where a wicked hill climb on the bike played into Hamish Carter and Bevan Docherty's hands. This is, instead, a made-for-telly course (broadcasters like the big guns setting off on the run together), or a made-for-Britain course, depending on how cynically you want to look at it.
Briton Helen Jenkins shapes as the favourite, but it's hard to split the merits of her, Hewitt, Australia's Emma Moffatt and Erin Densham, or Switzerland's Nicola Spirig. The smart money would have a winner coming from that group, but the triathlon can throw up surprises.
Whatever happens, Hewitt will have plenty of support around the course. Margaret and John, her parents, have flown from New Zealand, her sister from Dubai and, as John is an Englishman, a clutch of aunts and cousins will also be in attendance.
As a proud Cantabrian, a part of Hewitt will be racing for her shattered city.
"It's so sad. I was there last summer and I couldn't go into the city, it was still all cordoned off. They opened the shopping mall in the centre but it didn't have the same feeling. A couple of days ago the new plans. It looks amazing but I don't know how long it's going to take."
Hewitt splits her time between Christchurch and Sete, France, where she lives with her partner and coach Laurent Vidal. He's racing later in the week for his home country so the two have had only a limited amount of time together.
"I'm at the New Zealand hotel, Laurent is at the French hotel. But he's written a list of things for me to remember."
First and foremost on the list?
"Just keep it simple."