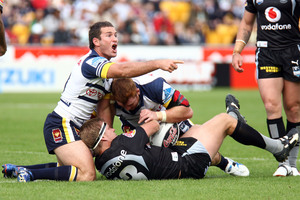 Centre stage never did agree with Aaron Payne, but North Queensland football manager Peter Parr reckons the unassuming hooker will be ranked up there with the Cowboys' "rock stars" when he retires at season's end.
Payne, 29, announced yesterday that this season would be his last, drawing the curtain on a 10-year career - all at his beloved Cowboys.
Considered one of the best rakes never to taste State of Origin, Payne still hoped to tick off another major goal before hanging up the boots - another grand final, seven years after their ill-fated 2005 season decider.
"There is nothing I would love more than to finish my career with an elusive grand final," said Payne.
"I know we have the team to be a threat in the competition. It is up to us to play to our potential."
But Parr believed Payne had already achieved enough to be regarded as a Cowboys great.
He said Payne was never going to take the limelight away from "rock stars" such as Johnathan Thurston and Matt Bowen, but the No9 more than held his own on the big stage.
Payne's total of 213 games to date trails only Bowen (244) on the club's list.
And since his round-12 2002 debut, Payne has played in all four of North Queensland's finals campaigns to date including their 2005 grand final loss to the Wests Tigers.
"To me, he is like the drummer in a band. He's been playing with a few rock stars but he's always there and always did his job," Parr said.
"His contribution has been as good as anyone. He's one of the club greats."
Payne said injury and hot-and-cold form had helped him decide after mulling over retirement for months.
"When you are not playing well, you start seriously thinking about it and my form this year has been up and down - there are times you reflect and say, 'Should I still be out here?'
"But it's more got to do with the physical side. My body was taking longer to recover - that's when I said, 'It's time."'
Payne had considered extending his career in England but decided to retire a one-club player, and will take up a Cowboys' junior development role from next year.
- AAP