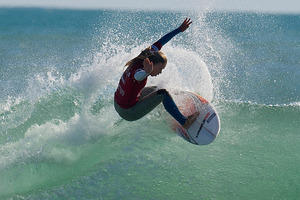 Taranaki surfer Paige Hareb has qualified for the 2013 ASP World Tour overnight (Thur NZT) after progressing through to the third round of the Nike US Open of Surfing and ensuring a fourth straight year at the elite level of the women's circuit.
Hareb went head-to-head with fellow Kiwi Sarah Mason in the second round of the event in a must-win heat to keep her qualification hopes alive.
Sitting 10th-equal with travelling companion Rebecca Woods (Australia), the highest placed of the two surfers would see the points-tie split with the highest ranked surfer retaining their place on tour which caters for the elite top 17 surfers in the world.
Hareb defeated Mason 13.0 points to 8.10 points in a heat she dominated from the outset.
Hareb posted a 7.33 point ride on her first wave and slowly built her scoreline until posting a 5.67 point ride leaving Mason requiring an excellent score to progress in the small 0.50m waves at Huntington Beach, California, USA.
Hareb then had to wait until Woods contested the last heat of the round against French surfer Pauline Ado. Ado took hold of the heat late, scoring 13.50 to Woods 6.54 sealing the fate of Hareb.
Hareb's defeat of Mason dashed any remote hopes of Mason requalifying after her first year on tour. Mason would have needed nothing short of a win at the event for any chance of requalifying. Going into the event Mason was ranked 13th needing to rank inside the top ten to requalify.
Hareb is the only New Zealand surfer to have spent more than one year on the ASP World Tour after Gisborne's Maz Quinn contested a single year on the men's tour in 2002.
New Zealand's highest ranked male surfer is currently Jay Quinn, who went into the US Open of Surfing ranked 52nd in the world needing to finish inside the top 32 to follow in his older brothers footsteps.
- APNZ