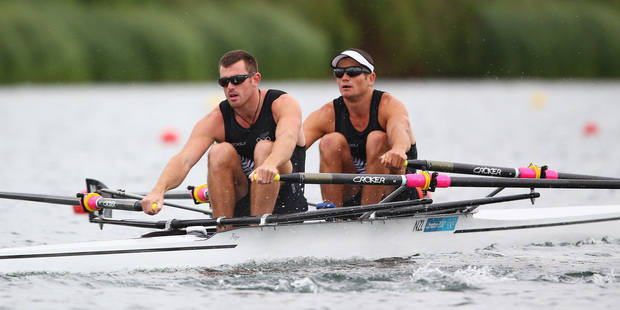 A look towards day six of the 2012 London Olympics and which New Zealand athletes will be competing.
After doubling our medal tally to two overnight, take that Republic of Moldova!, the New Zealand team look to add more at the rowing and the velodrome.
Kiwis in action - See when our athletes compete
Rowing:
All eyes turn to the double sculls pairing of Nathan Cohen and Joseph Sullivan at 10.50pm as they look to pick up New Zealand's third medal in London, and second in rowing. The duo had the second best time in the semifinals, after producing an effort six seconds faster for the best time in the heats. Could New Zealand's first gold come tonight? There are also semifinals for four other New Zealand crews from 9.20pm.
Swimming:
Three New Zealanders hit the water from 10pm with Lauren Boyle first up in the 800m freestyle heats. Daniel Bell (100m butterfly) and Melissa Ingram (200m backstroke) follow soon after.
Sailing:
The men's 49er crew of Peter Burling and Blair Tuke will look to retain their second placing when racing begins at 11pm in Weymouth. The duo sit well behind the leaders from Australia and with still 10 races left are set for a dogfight with five other boats over the minor medals. Five other New Zealand boats take the water overnight.
Canoe Slalom:
Luuka Jones is first to race in the slalom course after qualifying in 15th place for the semifinals which begin at 1.12am. The top 10 go through to the final which takes place just before 3am.
Equestrian:
Following from New Zealand's bronze in the team eventing, Louisa Hill takes to the dressage field on day one of the individual dressage event with her horse Antonello at 2.02am. The event is decided over the next two days.
Cycling - Track:
The cyclists move from the road to the velodrome with both the men's sprint (Eddie Dawkins, Simon van Velthooven, Ethan Mitchell) and the men's pursuit (Sam Bewley, Marc Ryan, Jesse Sergent, Westley Gough) teams in action from 3.15am. The medals in the sprint are decided tomorrow morning with the finals taking place at 5.15am.
The New Zealand trio won bronze at the recent world championships in Melbourne.
Hockey:
The women's hockey team attempt to continue their unbeaten run when they face off against world number two ranked side Argentina at 8.15am. The Black Sticks face a tall order against the top ranked team in Group B but a win would put them in a great position to finish top of the group and a spot in the semifinals.
Medal contenders?
Cohen and Sullivan are a chance for gold after a blistering time in the heats, while the men's sprint team could provide a fine start on the track for the New Zealand cycle team.
- HERALD ONLINE