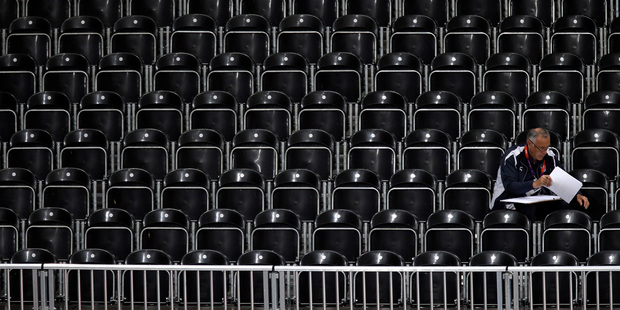 Tens of thousands of ticketholders are failing to show up to Olympic events, organisers admitted last night.
On the second day of competition, up to 14 per cent of those who obtained tickets - some 67,000 - did not bother to attend.
On other days, the stayaways amounted to an equally disturbing 58,000 and 50,000 - meaning the average no show figure is nearly 60,000.
The astonishing daily figures will enrage British sports fans, thousands of whom are still trying desperately to buy seats online every evening. They complain that the website is repeatedly crashing and that tickets remain unavailable despite what the site suggests.
Many of the stayaways are VIPs who were given their tickets by sponsors - including for sold-out events such as swimming and gymnastics finals - but couldn't be bothered to use them.
The figures confirmed the huge challenge faced by organisers over the next ten days to claw back unwanted tickets from overseas National Olympic Committees (NOCs), officials and dignitaries so they can be resold to the public.
The 2012 supremo, Lord Coe, has insisted that the ticketing scandal will be resolved as the Games progress and said the venues have been 'stuffed to the gunwales'.
But last night Margaret Hodge, Labour MP for Barking in East London, said: 'This many unused tickets is shocking. If organisations are not going to use their tickets they should think about the people to whom it would mean an awful lot, and give them back and not be selfish.
'We will be reviewing how the ticketing was handled after the Games and find out whose responsibility this was. The hunt for sponsors has been such a priority that ordinary people who feel really excited by the Games have not had a look in.'
The Games organiser Locog has claimed it was responding to embarrassing scenes this week - as pictures of half-empty stadiums at even the most popular sports, including swimming, equestrian and gymnastics, were beamed around the world.
It has already reduced the size of the accredited area to give over more seats to the public. Some seats were initially handed out to children and troops, but even they could not fill the gaps.
Organisers say they are taking back up to 3,800 tickets every day from NOCs and reselling them to the public.
But yesterday Locog finally released the true figures from the first three days of full competition. On Saturday, just 86 per cent of seats were filled when, out of 414,000 tickets sold, a staggering 58,000 seatholders never arrived.
Organisers have made clear that many of the 'no-shows' are members of the International Olympic Committee, the NOCs and heads of state from the 204 participating countries. However, they will also include schools and community groups who were given unsold football tickets at the last minute and were unable to attend. The absences did not improve on Sunday, when 67,000 ticketholders did not show, while 50,000 failed to turn up on Monday.
Locog is trying to rectify the major problem by encouraging foreign delegations to hand back their unwanted tickets so they can be resold to the public.
But many of these are going on sale only hours before the events, making it difficult for anyone outside London to attend at such short notice.
The last-minute nature of the sales, which take place through the London 2012 website, means that it is too late to post the tickets, leading to lengthy queues several hours long at collection box offices.
Yesterday, Locog finally agreed to do what critics had urged weeks ago and said spectators could print out their own tickets before arriving at their event.
A spokesman for Locog said: "For the gymnastics, as well as the Olympic Park venues and Earls Court we are going to have a print-at-home ticket so people can go straight away. There's too many people otherwise." The chaos led to renewed calls for an overhaul of the ticketing system, with its unreliable website, poor availability for Britons and arguably over-generous allocations to nations who had little demand for the tickets.
The British Olympic Association called on the International Olympic Committee to revamp its ticketing policy for future Games.
Simon Danczuk, the MP for Rochdale, said: "When I hear that corporate hospitality tickets are going to waste and companies are not using them, it's an insult to hard-working people who have applied unsuccessfully and desperately wanted to go and take their place in the stadium and cheer on Great Britain."
Mr Danczuk pointed out that while the sale of tickets at short notice will benefit Londoners, the rest of the UK will be left out.
"We were promised these Games would be inclusive and reach out to all corners of the UK. Yet the reality is those who will benefit from the release of further tickets are Londoners. People in the North who were unable to get tickets first time round will feel hard done by."
- Daily Mail