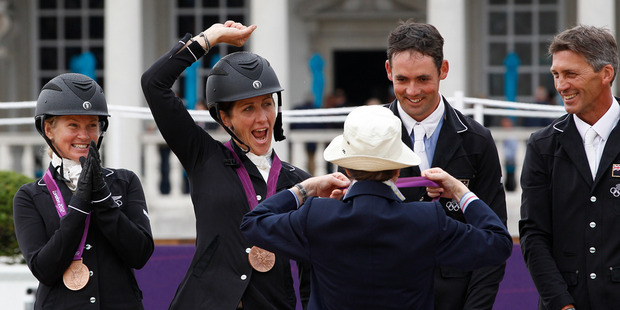 A quick bite of the best of the action from day four at the London 2012 Olympics.
TOP NATIONS:

NEW ZEALAND - GOLD 0 SILVER 0 BRONZE 1
Todd misses out on shot at gold
I'm guessing you stayed up to watch New Zealand secure bronze in the team event, handing the incomparable Mark Todd his fifth Olympic medal in his seventh Games. He finished down the individual field after dropping more rails on his final showjumping. Andrew Nicholson finished fourth, still cursing the dressage controversy that cost him a chance for a medal. There was incredible drama at the finish. Swede Sara Algotsson Ostholt needed to go clear to win gold and circumnavigated the Greenwich course with precision until her mount Wega's heels clipped the last fence.
The rail hung for what seemed like an eternity before crashing to earth, gifting Germany's Michael Jung the individual title.
Burling, Tuke lead NZ sailors
At Weymouth, Blair Tuke and Peter Burling has forced themselves into contention with a 1st and 7th, leaving them second overall, a long way behind prohibitive favourites Nathan Outteridge and Iain Jensen of Australia. Dan Slater had a shocking day in the Finn, with a 17th and 11th dropping him to seventh overall. The big news in this class is Ben Ainslie continuing to lose ground on Dane Jonas High-Christensen. On the first day of boardsailing JP Tobin came back from a bad first race (15th) to finish 4th in the second and is in 9th overall. The Star pair of Hamish Pepper and Jim Turner lies 8th. The laser and laser radial crews are struggling.
At the Basketball Arena, Spain beat Australia. Never mind.
Hosts with the most (except golds)
Team GB are still awaiting their first gold medal as anxiety levels start to rise. So are Team NZ, now we mention it.
Make it 3-1 then
South Africa hockey coach Giles Bonnet has had a real grizzle about the umpiring after being thumped 4-1 by New Zealand. They feel referral on Kayla Sharland's first goal was misinterpreted. "It is appalling. It is a farce that they scored a goal that is not a goal," Bonnet cried. "I'll ask the technical delegate and we will make a complaint but in terms of the result, it will mean nothing."
Ye Shiwen gets more support
British Olympic Association chair Lord Colin Moynihan has backed Ye Shiwen after her performance in winning the 400IM in 5s under personal best time was described as unbelievable in the truest sense of the word by US Senior coach John Leonard. Moynihan said Ye, 16, had passed drug tests, was "clean" and deserved recognition for her talent.
Ye wouldn't have helped her cause with another Olympic record to win the 200-metre individual medley this morning - her second gold of the games.
Phelps goes top in style
After two silvers Michael Phelps finally picked up his first gold in London this morning, breaking the individual medal tally in the process. The gold took his personal Olympic tally to 19 passing Soviet gymnast Larisa Latynina, who got her haul in during the 50s and 60s.
USA break gymnastics drought
The Americans lived up to their considerable hype, routing Russia and everybody else on the way to their first Olympic women's team gymnastics title since 1996.
Quote of the day: "The full ball doesn't have to be on the line, just a part of it. I thought it was, the umpire thought it was and so did the referral umpire." - Kayla Sharland pre-empts Bonnet's moaning.
Medal watch:
And we're on the board - fourth to bottom however. Unfortunately we couldn't pick up a second in the individual eventing.
Hot - China, USA: Both picked up four golds on day four but China still hold top spot with 13 gold medals.
Cold - Great Britain: Still looking for that first gold.
On the rise - Kazakhstan: Gold medal number three coming in the weightlifting puts the former Soviet nation ahead of Russia again.
Kiwis in action - results and schedules