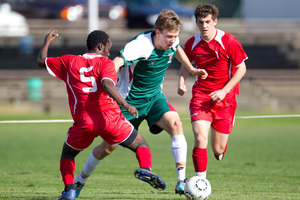 Many New Zealand secondary schools will be taking more than a passing interest in the London Olympics as they monitor progress of former pupils on sport's biggest stage. Auckland Grammar probably have more interest than most with seven old boys in the 184-strong New Zealand team.
Recent All Whites debutants Ian Hogg and former AGS 1st X1 captain Tim Myers are in the Oly Whites team who have battled bravely in their opening two matches and face Brazil in a must-win game early tomorrow morning.
Michael Arms is a member of New Zealand rowing's quadruple scull who row their semifinal tonight.
Aaron Gate, captain of AGS cycling in 2008, is a member of the strong Kiwi track squad which has yet to compete.
Richard Patterson, a two-time Commonwealth Games weightlifter and 2010 silver medallist, will make his second Olympic appearance in the 85kg class.
Ryan Archibald is regarded by many as one of the best New Zealanders to pick up a hockey stick and continues to add to his illustrious international career with a second Olympic appearance.
Archibald, who has hinted strongly that these Games might be his swansong, has more than 250 caps since his debut in 1997. He has followed his father Jeff, also an AGS old boy, as an Olympian. Jeff was a member of the 1976 gold medal-winning team.
On the water, sailor Dan Slater flies the Auckland Grammar flag as he competes in the super-competitive Finn class in his third Olympic campaign.
There were also a couple of near misses for AGS old boys with hockey player Shay Neal and former triple junior world cycling champion and Commonwealth Games medallist Sam Webster considered unlucky not to make the cut.
RUGBY
Auckland
Predictably, the Auckland 1A championship has gone to the wire but with St Kentigern taking a vital one-point lead into Saturday's showdown with Auckland Grammar.
Both teams won their penultimate outings in the round-robin phase but St Kentigern, who will host AGS this week, picked up a bonus point in their 33-13 win over Tangaroa while AGS could only edge home 8-3 against De La Salle.
While most interest will centre on the St Kentigern v AGS clash and with it the advantage heading into the playoffs, the scrap for the fourth playoff spot - De La Salle need only a point from their game against Tamaki to hold third - will also go to the wire but with Sacred Heart best-placed to make the cut.
They head to the "Cage" to play St Peter's and should win while the other two top four contenders KBHS and MAGS meet at Kelston with the home team two points to the good. Only if Sacred Heart lose and they beat KBHS, could MAGS get up.
Kelston warmed up for that clash with a 62-8 bonus point romp over Tamaki.
Tamaki opened the scoring with a penalty but that was the best they could do as Kelston were soon across for their first try when No 8 Samson Fualalo scored, Nathaniel Apa added the extras and KBHS were on their way.
Fualalo added a second try and was joined on the scoresheet by Apa (also with two), Michael Sele (two), Japanese fullback Isei Shegie, Leon Fukofuka and Gerard Faitotoa as tryscorers with Apa adding six conversions.
Sacred Heart kept their hopes alive with hard-fought 11-6 win against King's College in a game which was, for many, ruined as a spectacle when King's lock Antony Quirk was sent off for an alleged act of foul play after the intervention of a linesman. King's supporters were outraged especially as subsequent evidence from the Sky Television cameras suggested it was a poor call.
King's, with two Bram Egli penalties to a Sacred Heart unconverted try, led 6-5 at the break. The game was eventually won by Sacred Heart with two second half penalties.
North Harbour
Rosmini were particularly keen to beat Massey given they are to play leaders WBHS in this week's final round of the competition and were rewarded with a 20-0 victory.
Massey started strongly but Rosmini scored the opening points of the game when Massey were penalised at a scrum, just metres from their own try line. Rosmini took the scrum option, and flanker Ryan Kennedy crossed the line for the first of two unconverted tries with wing Daniel Lee adding the second as they took a 10-0 lead into the break.
Daniel Hilton-Jones extended Rosmini's lead with a penalty before Kennedy went over for his second try which was converted by fullback Ben Hyatt-Brown. - Bruce Kidd.
Waikato
Hamilton BHS 1st XV continued on their winning way in the Super 8 competition with a 29-12 home win over Tauranga BHS.
First-five Josh O'Flaherty was a key influence in the winning side with his tactical kicking, as well as scoring a try and kicking two conversions. Apisai Tauyavuca, Brodi McCurran (2) and Legin Hotham scored Hamilton's other tries.
Hamilton also won the 2nd XV contest, 29-0.
Cambridge continued their winning form in division one and head the points table after comfortably beating Morrinsville 29-8. St Peter's headed off St John's 23-19 to maintain second ranking, while Matamata narrowly beat Tokoroa 30-27.
SOCCER
Sacred Heart are back on top of the premier table after their 4-1 home win over nine-man MAGS.
Fifteen minutes in, Sacred Heart went ahead with a Barney Poulter goal which could only be described as a comedy of errors.
Trying to gather an easy pass back MAGS goalkeeper Cameron Hogg slipped and gave Stephen Carmichael a shooting opportunity. It was blocked by Hogg, half-cleared by Cameron Sinclair before bouncing around in the penalty area a couple of times and eventually ending up in the goal.
Three minutes before halftime, the home team again made the most of a defensive lapse when MAGS captain Jonathan Quinn slipped on the edge of the penalty area. Carmichael took full advantage to score.
The game erupted in the 51st minute, involving a large group of players on the halfway line. Scuffles developed and referee Steve Peeters singled out MAGS defender Andy O'Donoghue and sent him off.
Determined to battle on, 10-man MAGS quickly closed the deficit when Nayuta Nagai scored from close range.
After some near misses, MAGS were further hit when, in another midfield scuffle involving both teams, Peeters red-carded MAGS midfielder Monty Patterson.
Sacred Heart quickly got more of the ball from a tired-looking MAGS team and went 3-1 ahead in the 85th minute when substitute Cameron Martin scored.
A deflated MAGS conceded another injury time goal in the 95th minute when Carmichael scored.
With four games to play, all against teams in the lower half of the table, a jubilant Scared Heart coach Danny Hay can now see a golden opportunity to win the school's first premier title. Second-placed MAGS have a harder task with their remaining games against higher-ranked opposition, including this week's clash with AGS.
Meanwhile, AGS have picked up one of the wildcards and will play in the 16-team Lotto Premier tournament during next month's winter tournament week. They have been drawn in pool three with Rongotai College, Nayland College and WBHS.
The other Auckland schools to travel to Nelson will be Sacred Heart and KBHS (together in pool one), MAGS, St Kentigern and TGS.
ON THE WEB
www.collegesport.co.nz