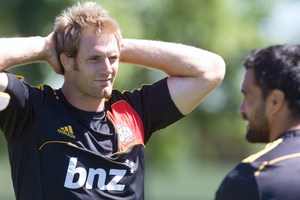 Chiefs captain Craig Clarke's chances of playing in Saturday's final against the Sharks in Hamilton are improving, but only just.
"It was mentioned 50-50 but it would slightly better than that now, I would say. It's feeling better today. For me to judge, I just need to wait till Thursday when we test it," Clarke said.
Clarke, a lock and important part of the Chiefs forward pack, injured a knee medial ligament only 13 minutes into last weekend's semifinal against the Crusaders at Waikato Stadium, but played on. "It was quite early in the piece... just in a ruck I was half in the ruck and half out and one of our boys hit the ruck and caught my knee and extended it."
A pool session yesterday (Mon) improved it and Clarke is just hoping he will be available to play in his second Super Rugby final. If not - "We've trained and planned according. We've got a couple of guys who can also play lock in Kane Thompson and Mike Fitzgerald and they're both very capable so we've got all the options."
He still has vivid memories of his first experience in the competition's showpiece, a 61-17 defeat by the Bulls in Pretoria in 2009. "We were dominated physically. It just seemed like we were getting demolished around the contact area and that freed them up, they were running rings around us, that's my main recollection of it."
If you can't beat them, and all that. The Chiefs, thanks to a hungry bunch of well-coached forwards, are now able to do the same to most teams they face. The exceptions came in their final two round-robin matches which they lost to the Crusaders in Hamilton (minus an ill Clarke) and the Hurricanes in Wellington.
"We realised that's a key part of why we've had a good season," he said. "We went away from that in the last two round-robin games and were on the receiving end. When the quarter-finals were on we were able to train a bit and get that bit of sting back."
Sting is unlikely to be a problem in front of what will be a sold-out Waikato Stadium. This week it's a matter of keeping things in check and preparing as usual. Game day will bring its own excitement.
"In terms of what we do and how we structure our week, nothing is different. Obviously being a final, everything is a lot more intense which is exactly how you want it."
As for the Sharks, they come to the final via Brisbane and a qualifier victory over the Reds and Cape Town where they had a surprisingly easy win over the top-seeded Stormers. Their air miles balance will be healthy, but whether their legs are after after all that travel is another matter.
"They've got a couple of big men in their loosies and their front row. Guys like [hooker] Bismarck du Plessis who are really explosive and physically powerful. They're exciting but they also play with structure, they kick a bit, so they do both things.
"They seem to be very confident with what they did in Brisbane and back in Cape Town. They seem to be a team hitting their straps."
Clarke also had a message for those who doubt the Sharks can win a final after crossing the Indian Ocean twice in little over a week. They would be the first team to do so.
"If you were in their situation you'd use that as an incentive and say 'we're going to try to be the first to achieve this challenge'. They'll use it to get themselves up."
- APNZ