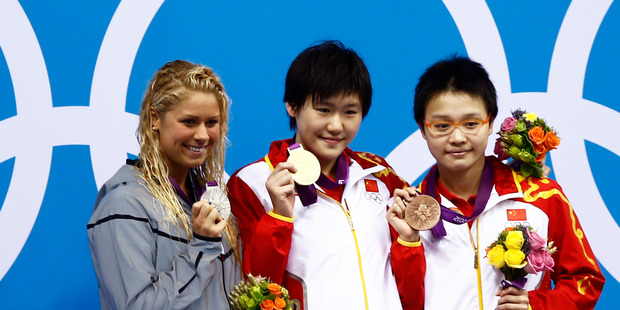 The achievements of Chinese swimming sensation Ye Shiwen has come under question after she swam at a faster pace than male gold medallist Ryan Lochte in the final lap of her 400m individual medley victory yesterday.
Ye smashed the world record by more than a second and also surpassed her personal best by a remarkable five seconds.
After the race, BBC presenter Clare Balding asked former British Olympian Mark Foster, "How many questions will there be, Mark, about somebody who can suddenly swim so much faster than she has ever swum before?"
Immediately reporters peppered Arne Ljungqvist, the international Olympic Committee's medical commission chairman with questions about Ye.
Ljungqvist said "it is very sad that an unexpected performance be surrounded by suspicions."
"Suspicion is halfway an accusation that something is wrong," Ljungqvist said. "I don't like that. I would rather have facts."
Despite Mr Ljungqvist's best efforts It seems the greatest show on earth will again be dogged by the suspicion of performance enhancing drugs.
Top US swimming coach John Leonard, the executive director of the World Swimming Coaches Association, has branded Ye's performance as "unbelievable" and "disturbing" and her speed over the final 50-metres as "flat out impossible".
Leonard told The Guardian that the race brings back memories of Irish swimmer Michelle Smith's four medal win at the Atlanta Olympics in 1996; she was later given a four year ban after failing a drug test.
He added that because she is from China - which has been dogged by swimmers testing positive for performance enhancing drugs in recent years - adds even more suspicion.
He has even suggested that the Chinese could be using genetic manipulation to enhance performances.
China's past will always cause suspicion at the Olympics Games after a sports scientist at San Diego State tallied 32 Chinese swimmers caught for drug offences in the 1990s, two of them twice.
However there may be another explanation for Ye's phenomenal ability. Unlike the 1990s China has turned to some of the sharpest minds in swimming, foreign coaches have been called in to improve coaching programmes.
Ye has trained in Australia with two well-recognized coaches, Ken Wood and Denis Cotterell. Wood has had a coaching contract with the Chinese Swimming Assosation since 2008, he told the The Associated Press in a phone interview.
"I get paid per month, per swimmer four times more than I do with my home swimmers,"
"China is putting a lot of money into its program and I am only too happy to work with them," he said.
"The whole Chinese philosophy is that they want to be the best they can."
"In the 1990s, the reputation of Chinese swimming wasn't good. There were a lot of doping problems. But it really is very different now. A lot of attention is paid to training. And despite breaking the world record, Ye Shiwen didn't come out of nowhere. Her results have steadily been improving," he said. "So I think it is down to training, not other methods."
"What they are saying is: 'Where did this girl come from? She came from nowhere,'" Wood said. "That's absolutely rubbish."
- HERALD ONLINE/AP