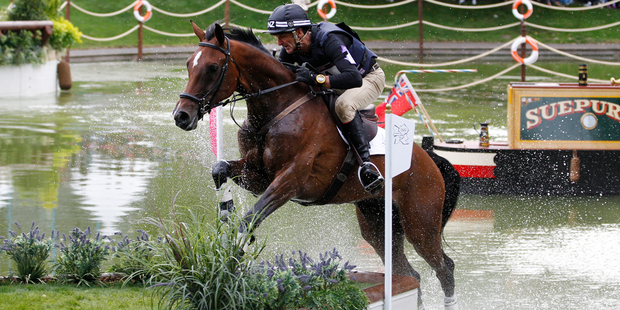 Mark Todd jumped two clear rounds in the show jumping at the Olympic test event on Campino and if he can do that again tonight (NZT) he will bag a fourth Olympic individual medal and fifth overall.
The minimum would be a bronze, to match what he won in Sydney which signalled his retirement from the sport. The two-time Olympic champion is back, of course, and his rivals know all about it.
Germany's Ingrid Klimke and Sweden's Sara Algotsson Ostholt hold a slender 0.2-point lead over Todd in third and won't feel particularly comfortable.
A single mistake will let the 56-year-old Todd back into gold medal contention but, equally, a dropped rail could see Todd drop down a condensed field.
Fellow Kiwi Andrew Nicholson is in ninth, but only 5.7 points behind the leaders - a dropped rail equates to four penalty points.
The show jumping will be contested over two rounds. The first counts for both the individual and team's event and the top 25 riders then move onto the second phase to decide the individual medals.
Todd has put himself in this position by an exceptional ride in yesterday's dressage and then followed it up with a near faultless ride over a tricky cross country course at Greenwich Park this morning.
He was 0.6 seconds outside the allotted time of 10 minutes and three seconds, meaning he picked up 0.4 penalty points and slipped behind Klimke and Algotsson Ostholt.
He "clobbered" the last of the 28 jumps as he battled the clock but doesn't think it cost him unduly.
"It's slightly annoying [I went over the time] but I'm third and the horse is a good jumper," Todd said.
"If my horse jumps a clear round and we end up with a medal, it will be four years' work really worth it.
"He jumped two clear rounds here last year in the test event. He's normally a pretty good jumper. We will just have to hope he goes well tomorrow."
It's incredible he's here at all. Campino is nine, young by equestrian standards, and was at a lowly two-star level just 12 months ago.
The oldest rider in the competition and one of the youngest horses have somehow forged a successful combination and it has also put New Zealand in with a shot at a medal in the team's competition.
They sit in fourth, but less than a dropped rail behind Sweden in third and Great Britain in second, with Germany not much further ahead.
It will probably require Todd, Nicholson and Jonathan Paget (14th) to go clear or with few mistakes it they are to medal.
"That's what we came here for," Todd said. "We would have liked to be a little higher up but we are close and the other horses are all good jumpers as well and we know some of the horses ahead of us aren't good jumpers. But all we can focus on is jumping clear rounds tomorrow and seeing what happens."
Many, many people will take an interest in how the 56-year-old goes, too.
- APNZ