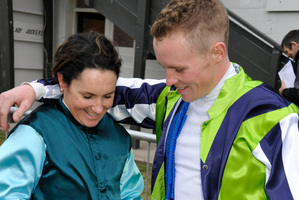 John Sargent believes he will never win the New Zealand trainer's premiership again.
Which is what makes his record-breaking performance at Oamaru yesterday so sweet.
The popular 53-year-old horseman was the star on the final day of the horse racing season when he trained four winners, not only putting an exclamation mark on his premiership title but setting a record of 111 wins for the term.
That broke Mark Walker's previous record by three and while that comes with no set financial reward, Sargent was thrilled with the final number.
"When you think of all the great trainers who have won the premiership it is an honour to be listed alongside them," he told the Herald.
"And to get to 111, to set the record, that gives all the young trainers something to chase.
"I won the premiership when I was training in Malaysia in 2000 and I wanted to add one here, especially after finishing runner-up the last two seasons."
And especially as Sargent will spread his resources among three bases next season, suggesting to him he won't have the numbers to win the title again.
He opens his Sydney satellite stable at Warwick Farm this week, with the man who oversaw his Riccarton stable so successfully this season, Andrew Carsons, to head up that venture.
His sister, Michelle Carsons, will take over the Riccarton stables, with Sargent dividing his time between Matamata and Sydney.
"We will have six to eight horses in Sydney to start with and I am obviously hoping to get a few more,"said Sargent.
"I will have the 40-horse barn here [in Matamata] and we will probably cut Riccarton down to around 12 horses.
"Initially, I will need to be heading to Sydney a lot to help set things up but I am lucky to have great staff because Andrew knows how we feed and train so it should be a consistent transition."
While midweek stake levels in New Zealand make Sydney more attractive to Sargent, he says he is not turning his back on New Zealand racing.
"This is a way to give my horses and my owners more opportunities.
"But not all horses are going to be suited to racing there because it's hard to win in Sydney, so it isn't a mass exodus.
"I will see how it all pans out before I know how big it gets and how much time I spend in each place."
While Sargent was the training star of the show, Lisa Allpress ends the season our premier jockey after her long battle with Matt Cameron.
Allpress rode just one winner yesterday, the Sargent-trained Captain Cruising in race five, appropriately beating Cameron into second.
That took her tally for the season to 159, three clear of Cameron after she trailed her northern rival by 13 wins just two months ago.
Allpress said she was relieved but gutted after she clinched the premiership.
"I just feel relieved but gutted for Matty but I guess that is just me. He has been a wonderful competitor and deserves it just as much as me," she said.
Allpress (37) was accompanied to Oamaru by her husband, Karl and sons Josh (7) and Angus (4).
Like Sargent, Allpress dearly wanted to win the premiership as she knows she may not get many chances at a repeat, suggesting she may only ride for another season or two.
The pair's battle, coupled with Sargent's record chase, made the normally turgid winter racing far more palatable, as did the TAB's decision to provide betting on the premiership, making it relevant to punters.
With the new racing season beginning tomorrow, it is hoped premiership betting is here to stay.
Gallop South made a presentation to Allpress yesterday to mark her achievement.