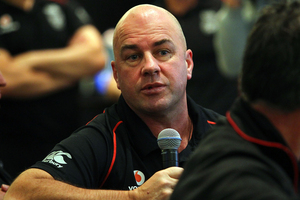 Is getting to answer your own questions one of life's greatest indulgences? Absolutely. So here goes, after a truly entertaining and diverse weekend of sport.
What was the highlight of the Olympic opening ceremony?
The weird little grassy hill backdrop when Lord Sebastian Coe made his lick-lick slurp-slurp opening speech? Lord Seb looked like an MC who had got lost at a One Tree Hill wedding.
Why isn't handball a bigger sport?
This Olympic minnow looks like a terrific game to play. For those who haven't seen handball, the game is a bit like soccer but played, as the name suggests, by chucking the ball around.
What do you think of the Games so far?
Archery misses the bullseye by a long way ... but being reacquainted with sports like gymnastics is invigorating.
Great gymnastics is amazing. The following doesn't rank as particularly scientific but ... I polled my teenage nephew who revealed he is completely uninterested in the Olympics, except for USAIN BOLT. The brilliant Jamaican sprinter is, I suspect, kind of cool (to use a word that used to be cool) to the younger generation, in a way pistol-shooting Koreans ain't. The IOC might not have liked the way Bolt behaved during his brilliant Beijing Olympics, but the kids did. One day, these kids will rule the world.
Picturesque road cycling is lovely but ... do you think any Olympic cyclists are on performance-enhancing drugs?
Absolutely. The men's road race winner was once banned for using drugs. We ain't fooled by quaint scenery.
Does watching the Warriors rank as a form of cruel and unusual punishment?
Totally. Some teams find new ways to lose every week but the Warriors just stick to a tried and trusted measure of gaining a massive lead and then helping the other team to whittle it away. At least they are consistent.
Who will win the Super 15 rugby title?
The Chiefs. The Sharks are the best team in the competition but left their run too late and lost any home advantages in the playoffs. They will be totally poked by the time they get to Hamilton, having only just been to Brisbane and Cape Town.
What do we think of the Chiefs?
Fantastic. Congratulations to all involved - although the job is certainly not yet done as the team well knows. Head coach Dave Rennie and co have engineered exciting and successful football, and promoted undervalued players such as Andrew Horrell, Sona Taumalolo etc, etc along the way.
Did Taumalolo score a fair try on Friday night?
Wouldn't have a clue. My wild, unsubstantiated guess is no. It was a messy try fitting for an often messy-but-tense game.
Who is Brian McClellalnd?
According to NRL player-turned-TV sideline eye Brett Kimmorley, Brian McClellalnd is the coach of the Warriors.
Is the Crusaders dynasty over?
Completely. Some of us have been too hasty in predicting the end of their various eras over the years. But four seasons without a title - since Robbie Deans left - makes this official. We no longer have to predict the end of a dynasty. It has already happened. The Crusaders have failed to live up to their reputation and individual qualities this year.
What has gone wrong?
Coach Todd Blackadder is falling short, and nowhere more tellingly than in the demise of Owen Franks, the power scrummager who should be an automatic starter but has lost his mojo around the field. The vague, strange story claiming the Crusaders props operate their own rotation system indicates Blackadder is allowing the tail to wag the dog. I have long heard that the Franks brothers operate their own weightlifting schemes, something that caused internal angst. Then again, the prop rotation story might be a typical New Zealand rugby smokescreen to soften the humiliation for test mainstay Franks, who was benched again for the semifinal in Hamilton. My hunch is that Blackadder is not strong enough to rise above a sort of committee system when he needs to. The toughest decisions - such as going against Richie McCaw's wish and switching him to blindside flanker - are difficult to make.
Did Robbie Deans have anything to do with the Crusaders dynasty?
Not according to many members of the Graham Henry fan club - but there is mounting evidence that Deans did actually contribute somehow to those five titles and two other grand final appearances during nine stellar seasons in charge.
Why did the Warriors travel to Perth so late?
Irrelevant question. They would have found a way to lose no matter when they arrived.
Is Waikato Stadium up to hosting the Super 15 final?
Not really, especially after witnessing the brilliant atmosphere at a jam-packed 48,000-capacity Newlands in Cape Town. Waikato Stadium is too small for such a big occasion, but is well designed so will do an okay job.
Will we keep watching the Warriors?
Difficult question. How often can you keep putting a hand in the fire? Oops, answering a question with another question is taking this concept a bit far.
What was the shock of the weekend?
Watching Sharks behemoth Bismarck du Plessis getting poleaxed by Stormers lock Eben Etzbeth. Until this moment, it was assumed that the granite-like B. du Plessis was unpoleaxable. He wasn't his normal brutal self after being run over and dazed.
What will be the Sharks' Super 15 final game plan?
A fast start - Freddie Michalak will aim early drop goals at the poles. Increasingly, the knackered Sharks will try to slow the game down any way they can. Expect a second half arm wrestle and a whirl of second half substitutions.
What was the most amazing thing you saw at the weekend?
A Canterbury Bulldogs junior wing built like an NRL first-grade prop. Scary.