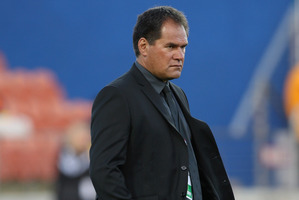 Chiefs coach Dave Rennie wants World Cup final referee Craig Joubert to control the Super 15 decider with the Sharks.
"He would be my preference, I think he is the best ref in the competition and I think you want the best referee in the final.
"The fact that he is from Durban makes no difference to us," Rennie said.
"In the end he is going to get out there and ref what he sees and the fact that he lives down the road from one of those teams I think is irrelevant. He is rated number one and we want the number one."
Joubert controlled the all-New Zealand semifinal before flying to Sydney for match reviews and briefings with Sanzar referees' boss Lyndon Bray, with a decision on the officials for the final due today.
As the Sharks regrouped for medicals and their next long-haul flight after holding out the Stormers 26-19, the Chiefs went through their plans at their Hamilton headquarters.
"We have a team review and then flush and pool recovery which gives us a head start for the whole week. Then some of the guys will go home and unpack their bags.
"I had written a list but had not packed anything although I would have done that at 5am if I needed to."
There was no feeling in the Chiefs that their work was done for this season, no one had shown signs of self-satisfaction after their 20-17 semifinal win against the Crusaders.
"There was a lot of frank talk about where we were at, what we were doing and I'm sure some of the media will want to talk about how tough it is for a team to travel here but we would not buy into that if we were travelling," Rennie said.
"We are sure the Sharks won't either and will be happy to come in with an underdog tag. They will fly into us for 80 minutes and it will be a hell of a battle."
The Chiefs' only injury worry is captain and lock Craig Clarke, who is rated less than a 50-50 chance of playing because of a knee ligament strain.
A few more days at home might help but Rennie agreed his skipper's final appearance would be "pretty much touch and go".
"The only other issue we had around travelling was Asaeli Tikoirotuma, whose wife is due next week. They already have two kids and both came early and we had some nervous thoughts around that but at least we are home now."
The Citing Commissioner reviewed a melee from Friday's semifinal with the Crusaders which provoked referee Joubert, after advice from assistant Jonathan Kaplan, to issue a group white card.
After looking at the incident the commissioner ruled there were no cases to answer.
The Chiefs broke the game open with tries to Sona Taumalolo and Liam Messam midway through the first half and then hung on as Daniel Carter scuffed a penalty to level the match, five minutes from time.
The most telling statistic showed the Crusaders missed 21 of an attempted 87 tackles in contrast to the Chiefs, who fell off 10 from 114 defensive hits.
In other areas, like the lineouts and breakdowns, the Crusaders had an advantage but handling and general errors under consistent Chiefs pressure marred their work.
The Chiefs last played the Sharks in late April in Durban in tough, humid conditions.
"We battled a bit in that game and so did they and both teams had big defensive displays," Rennie recalled. "They were on a big streak without a bye and that was our third game away from home and I think both sides were pretty knackered."