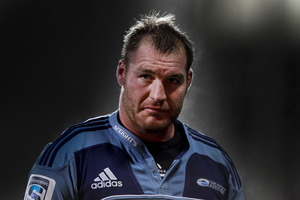 John Kirwan has a major 'to do' list in front of him. First entry is the name Ali Williams.
What's Kirwan to do - keep the 75-test All Black or tell Williams it's time to move on and see how the international market feels about him?
It will be an impossibly tough call for Kirwan, as the key is trying to determine whether Williams has much left to offer.
A new coach coming into a struggling side is always going to feel the need to impose himself early. There's no better way of doing that than punting a senior player - just ask Mark Hammett, who pushed out Andrew Hore and Ma'a Nonu from the Hurricanes last year.
He spent the immediate weeks after having his IQ and parentage questioned by just about everyone but nearly 12 months on, his decision appears to have been inspired.
The point Hammett made was that he was big enough and brave enough to do whatever he felt was required to build a team according to his wider vision.
It is not known yet what the big picture is for the Blues under Kirwan but Williams, as he was in 2008 before he ran into his awful period of injuries, would surely be a major part of any side in world rugby.
A lock who can dominate the lineout, shunt scrums, hit rucks, make tackles, pass and catch and stare a few people down, as Williams did so effortlessly back then, would be in demand. But is Williams still that player? Can he be that player - or be even remotely close - again?
His experience saved him earlier this year. All Black coach Steve Hansen felt he needed Williams in the squad as the other three locks didn't have 30 caps among them. There was plenty of supportive analysis from Hansen that Williams wasn't far off in his critical numbers; he intimated the veteran was simmering nicely, ready to come to the boil once he slipped the black jersey on.
It didn't happen and, when Williams conceded a penalty late in the second test against Ireland, there was a sense of a career going down the gurgler.
A big part of Kirwan will wonder just that; was that the final proof Williams is sinking into oblivion - a once great player desperate but not able to find the magic he once had?
Would keeping him at the Blues burden the side with an old head on old legs; a man becoming increasingly frustrated and volatile as a result of his reduced ability?
Williams, ever willing to play the clown, can be an engaging, inspiring personality and a natural leader. But he needs to be in form. He needs to lead by what he does more than by what he says and he needs to feel the certainty of his place in life by the deeds he can master on the field.
He's only 31; there could be a couple of big seasons left in him and just as tempting to write Williams off, is the desire to believe in him. Kirwan could make an equally big statement by extending Williams' stay at Eden Park and then nurturing the big lock to his best next year.
Imagine him commanding the set piece, smashing all comers off the ball and rampaging like he used to as part of a Blues side challenging at the right end of the table.
Two different scenarios with two hugely different outcomes; Kirwan has a difficult choice.