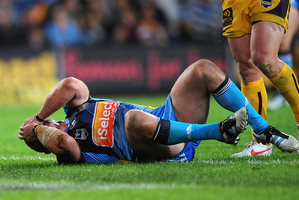 The next time I hear an ill-informed, biased and farcical comment on rugby league's shoulder charge, I will explode.
There has been a lot of hot air and rhetoric on this issue with a one-sided view of banning the shoulder charge.
The sport now has a dilemma. Does it keep the status quo or enforce harsher penalties if contact is made with the head?
My feeling is that would be the best way to go. As Gorden Tallis stated, this year, more than 90,000 tackles have been made in the NRL competition and only nine players have been charged with shoulder charge tackling offences.
That's 0.0001 per cent - not a large component of tackles made - but is certainly a reason why fans love the spectacle of the hit. We rarely see injuries sustained from this type of tackle but I admit we have seen a few in the last couple of weeks.
To put it into context, it is a small number. The speed of players and their footwork is also a factor.
Years ago, a prop forward just ran straight ahead and saw what was coming; today these same players are looking to avoid contact by looking for gaps and when they change direction, they automatically lower their centre of gravity, thus opening themselves to being hit by a defender's shoulder or arm.
Placing the onus on defenders has been the motto of the judiciary in the past few years and players now need to know if you attempt this type of tackle that you will suffer the consequences.
NRL doctors have suggested the ban should be imposed on the back of the Greg Inglis hit on Dean Young last week, again because he was knocked out from such a tackle. If doctors were that concerned about him then why did the St George doctor allow him to play on Friday evening?
In rugby union there have been a number of neck injuries over the years but they do not ban scrums. They set guidelines around the scrum and focus stringently on how they are set; it may be a long drawn-out process that uses up too much time but they still did not ban the scrum.
If you want to stop serious injuries or fatalities in motor racing then don't drive over 100km/h. That's not going to happen but safety guidelines are set. Banning the problem takes away the fabric of what attracts people to a sport or what defines it.
When the NRL promote the sport annually, there are always glimpses of big hits involving the shoulder charge and when seen in the course of a game, it excites people. When the charge is performed correctly and safely, there is not an issue.
When injury occurs there is always genuine concern for the well-being of a player as no one intends to injure through this type of tackle.
Yes, it is intimidation but a contact or gladiatorial sport is based on applying physical pressure on your opponent - as in the scrum in rugby union - but accidents happen.
Do not ban it because someone could get hurt; set rules, apply warnings and enforce the necessary penalties.