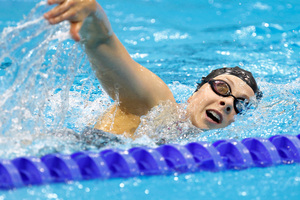 Every member of the New Zealand swim team looks set to compete at the Olympics.
That follows speculation some could miss out following relay time trials for the women's 4x200m freestyle and men's 4x100m medley - trials that were raced last night.
The race-off situation was reiterated to team members at the training camp in Cairns last month to minimise complacency. The logic behind the decision was to ensure the fastest in-form swimmers would contest events after they originally qualified more than a year ago.
Eight of the 16-strong New Zealand team are at the Games solely for relays. They are Tash Hind, Amaka Gessler and Penny Marshall (4x200m and 4x100m freestyle), Samantha Lucie-Smith (4x200m freestyle), Carl O'Donnell (4x100m medley), and Dylan Dunlop-Barrett, Steven Kent and Andrew McMillan (4x200m freestyle). Swimmers had the option of retaining the time they set in the Olympic trials or to race the time trial.
In the women's 4x200m freestyle, Hind bypassed the race-off while Boyle was not required to swim as the only individual who had achieved an Olympic "A" qualifying time. Lucie-Smith won the race-off in 1m 59.98s, ahead of Melissa Ingram (2m 00.70s), Amaka Gessler (2m 00.86s) and Penelope Marshall (2m 01.40s).
Boyle will make a decision on her availability following today's individual 400m freestyle. Hind is assured of her spot followed in order by Lucie-Smith, Ingram, Gessler and Marshall.
Gessler and Marshall could miss competing in the 4x200m freestyle relay but might still have had a shot at the 4x100m freestyle last night.
Andy McMillan clocked 53.30s in a solo time trial for the 100m butterfly to make the men's 4x100m medley relay. Daniel Bell had claimed the original spot with 53.57s at the Olympic trials. Bell will need to better McMillan's time when he races the individual 100m butterfly. If he does, McMillan will still get to swim in the men's 4x200m freestyle relay on Tuesday night.