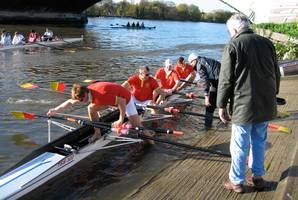 Few people realise it but if Mahe Drysdale wins Olympic sculling gold in London, the first tentative strokes towards that triumph were made in London, under British tutelage.
In 2004, Drysdale was already a considerable oarsman; he became an Olympian at Athens but as a sweep oarsman (one oar) in New Zealand's coxless four. The crew, which included men's pair rower Eric Murray, finished fifth.
Drysdale wanted more; he wanted a change, swapping one oar for sculling's two. He asked British rower Alan Campbell - ironically now a key rival - where it was best to learn.
The answer to that question saw Drysdale graduate from a rower with little idea about sculling to becoming world champion in just over a year. The answer lay a westerly row down the Thames to Chiswick Bridge, home of the Tideway Scullers School and a man called Bill Barry.
He is a sculling expert who won plenty of titles during his career. His family had a sculling pedigree over three previous generations.
Ironically, his Olympic silver medal came in a sweep oar boat, the coxless four at Tokyo in 1964.
Barry, 71, who helped row the Olympic torch from Hampton Court to Tower Bridge, was happy to teach Drysdale and Campbell. They've all since become close friends, although professional courtesy applies when an Olympic or world championship regatta looms. Drysdale generally gets the better of his rival but Campbell has had significant moments of glory, like taking a Wingfield sculls (just under 7km) race and a Henley diamonds sculls (2.1km) title off the New Zealander.
In that 2004 northern autumn, Barry says Drysdale was embraced by the Tideway club. He returned the favour. The embryo of what was required to win a world championship sculling title in Gifu, Japan, had been formed.
"Mahe came to us and said he wanted to learn," Barry says. "So we found him a boat and it's fair to say he was still quite a novice. 'Agricultural' might be a better description. He tended to catch a fair bit of the Thames with each stroke. I had also started coaching Alan and he had a similar technique.
"Initially Mahe couldn't qualify for the first-ranked quad boat at the club and only got into the second one by the skin of his teeth. But he was a mighty learner and worker. Day after day, he would row 20km and have Alan alongside him. They learned off each other and quickly became smoother - but I don't want to take anything away from what his later coaches John White and Richard Tonks have done."
Barry says Drysdale's land work was phenomenal: "He's a monster with weights and his ergs are almost too horrific to watch. He would really go for it.
"Towards the end of the year he went back to New Zealand. The following year he returned to stay through the winter. I said to him: you are going to win your trials and the world championship. Sure enough, he did.
"From there, he came under the New Zealand team banner and our conversations tended to die a bit because I was focused on coaching Alan. But we remain the firmest of friends."
Now a five-time world champion and Olympic bronze medallist, Drysdale looks back on the decision as one of the best in his life, as he prepares to race for that elusive Olympic gold this week. He's been familiar with London most of his life, having lived 30 miles south of the city centre from age 4to 11.
"I met Alan [Campbell] at the Olympics in 2004 and he recommended Tideway," Drysdale says. "I have been looked after well by Bill, Alan and everyone at the club since I joined. I've met some great people. The club even get behind me at world championships."
The club occupies a spot under Chiswick Bridge. Dozens of boat shells are stacked in the carpark and storage area underneath. Comfy, well-used couches fill the second-storey lounge and the walls teem with a proud, successful history. A blue and white topped obelisk stands outside the window. It lines up with a rock that has the letters "UBR" inscribed on it across the other side of the river - the finish line of the university boat race.
Drysdale has brought prestige to Tideway, helping them win numerous Head of the River titles in the eights, quad and double sculls. Barry says what is just as important is his attitude.
"He's really generous with his time, he thinks about the clubs he rows for and I understand he has done that at [Auckland's] West End too. He was absolutely loved at our club and joined in all talks and discussions about rowing. He's also a champion after rowing, let's just call it the 'social' side of the sport ...I'm proud he's been involved with us. If Alan doesn't win the Olympic single sculls, I want Mahe to win."