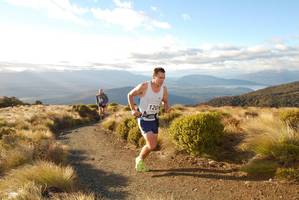 Even in his mid-40s Tim Grammer doesn't plan to slow down any time soon
Tim Grammer boasts a sporting CV that makes you sit back and wonder what you've been doing with your life. The 45-year-old has competed in more elite sports than many have had hot dinners ... and he isn't done yet.
He has competed in the Speights Coast to Coast seven times, where his best results are a fourth in the one day and second in the teams.
He has raced in several multiday adventure races in New Zealand, winning the Southern Traverse.
He took his love for adventure abroad to Switzerland, the British Virgin Islands, Colorado and to Brazil where he combined in a team with multisport legend Steve Gurney. He and the Coast to Coast champion competed in a 12-day non-stop race - which they won.
He has competed in countless paddling races over the past 30 years after he originally competed in surf lifesaving.
Off the water Grammer has run a plethora of marathons (with a best time of 3:07), half marathons and off-road races, completing the Kepler Track race three times.
He also loves to mountain bike and in 2009 was in the Molokai World Surf Ski Champs, finishing fourth in his age group and 17th overall.
When you've tasted success at the elite level it's hard to let go. This Auckland adventure sports enthusiast remains committed to training and competition and loves to push the boundaries, with plenty of new challenges on the horizon.
What are you training for at the moment?
At the moment I'm trying to just paddle and ride because my foot is a bit shagged from an old Waitakeres off-road running race injury. I'm trying to get it right to race in next year's Routeburn Classic off-road running race in the South Island.
Next year a couple of us might try to go to Portugal for the first officially sanctioned ICF World Surf Ski Champs. There's also the Murray River 500km over five days paddle race in Aussie at the end of this year which I might go to. There are lots of good things to do out there.
You compete in a whole range of sports - which do you rate as your favourite and why?
Ocean ski racing and running would be the same. I'm still competitive at top levels in ocean racing so I get real enjoyment in the paddling, whereas running takes you to some unbelievable countryside and it is the ultimate in life: simplicity.
What motivates you when it comes to sport?
Many things act as motivation. I couldn't not do it. You only get two things in life, a body and a mind, I couldn't imagine letting it all go to waste. It's pure and simple freedom. It's my relaxation. I can just completely switch off to everything and just think about races, the environment I'm in and how good this all feels physically. Even running or cycling on the busy roads and streets I can still switch off to it all. It really does keep you sane. The endorphin high afterwards. The people and friendship. It's only you, your running shoes and the lightweight clothes on your back. It's a crisp fresh clear day. You've run for four hours through some of the most amazing mountain ranges, you feel physically invincible, you are part of the environment, nothing else matters in the world, and you feel genuinely alive. There's nothing better than cycling or running past cars jammed up in traffic - it is total ultimate freedom. I don't feel too guilty about drinking lots of V and coke and eating chips.
You competed at the top level of some very tough events like the Coast to Coast, marathons - what are some of your fondest memories?
The funniest would be Gurney and I travelling to Brazil wearing suit jackets we bought at the op shop, so we could look flash to get bumped up to business class - it didn't work. Also the first time I ever went through the Coast to Coast run course on my own. I got lost and spent the night in the bush. I went from waist deep snow to being buried under leaves and dirt to keep warm, great experience.
You are now in your mid 40s. Are the competitive juices still flowing or is it all about competing with mates now?
I'm still competitive in the open category for ocean racing, and I can't help myself to try for a good place in the running and mountain bike age groups. For me now, it's honestly still all about the motivating reasons mentioned before.
How hard it is fitting in training around your work and what advice do you have for others looking to stay fit in a busy lifestyle?
Fletcher Construction is amazingly supportive. Busy or not, I always believe if you truly and genuinely want to do something, anything, you'll find the time without even having to look for it.
You're a regular at The Paddling Project. What do you enjoy about this series?
The organisers are well known to the paddlers, and are paddlers themselves, with great international and New Zealand experience to draw from when planning. It is fairly social too, people tend to know each other and we do stay around after races for a drink and barbecue.
What paddling events do you compete in and what is the standard of competition like?
I race all of the ocean racing ski events, anywhere from 5km to 60km. The competition is totally varied dependent on whether it's a small, club-level race or an international world champs event like the 60km Molokai Channel race in Hawaii where the best in the world compete. At that level the top competitors are Olympic-class flat-water paddlers, although they can tend to be beaten by specialist ocean-racing paddlers. The Paddling Project races are about six or seven times per year. The level of competition is fierce as about six or seven of New Zealand's best ocean-racing paddlers are always there. I've won a few of the New Zealand events and always manage to get at least the top three or four. It's good competition and good fun.