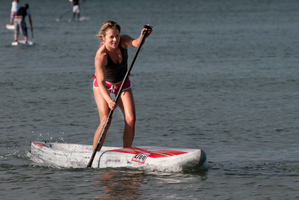 Victoria Stuart practises what she preaches.
The 36-year-old mother and marketing manager of Starboard New Zealand, who promote Stand Up Paddle (SUP) boarding, likes to spend as much time as she can "walking on water".
Stuart has fallen in love with the sport and is one of many amateur athletes who have taken up SUP racing for fun and fitness.
"I was a complete beginner to competitive sport before I started paddling," said Stuart who also enjoys recreational skiing, yoga and walking.
She is a regular at a number of SUP events across Auckland including The Paddling Project, The Starboard Winter Series and Sharkskin Dash Before Dark, every second Tuesday from Royal Akarana Yacht Club.
The group events are a real motivator to get fit during winter.
"I love the physical and mental benefits you get from that 30-minute blast on the water in a race, and you feel such a great sense of achievement when you beat your time or the guy that's usually 100m in front of you."
She has achieved good results at the series, usually finishing third behind World No.1 Annabel Anderson and Stacey Smith in the Women's 5km SUP race. "It is just a thrill to rub shoulders against SUP paddlers who are competing on the international stage.
"The top paddlers in both male and female are world class paddlers," said Stuart, whose partner is New Zealand rep Jeremy Stephenson.
"They are competing overseas and place consistently in the top three [Anderson] and top 20 international elites [Stephenson]. To be able to pace yourselves with these guys every race is a real buzz."
Stuart said the standard of the competition varies from week to week.
"I usually finish in third place, that is if the Olympic athletes like sailor Jo Aleh cross-training on SUP don't show up. I am way behind our top New Zealand athlete Annabel Anderson, who is currently placing first in the world and consistently beats even our leading male paddlers here."
Stuart said The Paddling Project organisers Katie Smart (nee Pocock) and her brother Jason created a great energy and "the merging of likeminded groups of water people in different sporting codes - it is crossing boundaries."
She competes in the monthly event run and also participates in the Starboard Winter Series at Takapuna and Akarana, the State Beach Series and regional Flatwater Race Events.
Stuart loves competing year-round and the cold water and weather is never a barrier.
"It's almost easier when it's cold as you heat up so quickly when racing, and you have to keep moving fast to stay warm. I wear neoprene boots to keep my toes warm and super-cosy Sharkskin paddling pants when it's raining or really icy, but most of the year I paddle in a bikini and a singlet. You're not really in the water so much as on top of it, and those calm winter days are even nicer than summer, with amazing water clarity."
The SUP racing community in Auckland has grown significantly in the past few years and Stuart said it was well-known for being a social sport. "It's a great bunch of people who share a passion for the water and a healthy lifestyle, with a good dose of fun. I love catching up with the crew after a paddle and hearing not just about the race, but all their other paddling adventures, SUP surf missions and whale sightings since we last got together. Stand Up Paddling is so much more than just racing."
Simple tips for novices
What advice do you offer to newcomers to SUP boarding and kayaking?
Victoria Stuart (SUP boarder): It's a great way to experience nature and get out of the gym. The events are designed with complete beginners in mind, so come along! If you don't have your own gear there are options - just get in touch with the organisers for stand up, www.supsnz.com
Tim Grammer (kayaker): The start can be a little chaotic and the first km of even a 25km race can be a 110 per cent sprint.
What simple technique tips do you offer people just learning?
Stuart: While SUP is a really easy sport to take up with a few simple pointers such as "keep your arms straight", mastering the stroke for race-efficiency takes a bit of skill. I recommend all newcomers to SUP book a lesson with top coach Annabel Anderson to address any weaknesses and build a good foundation (find her on Facebook). If you can't do a lesson, watch the lead paddlers' form while racing, ask them questions and check out some of the tips from other top paddlers on YouTube. Learn about tide, current, wind, waves and safety on the water. Most important? Learn to surf.
Grammer: Paddling is mostly about technique, you gotta get that right, and most of that is the ability to paddle using your whole body, legs included. I would say 99.9 per cent of all beginners paddle with only their arms doing circles, but pushing with your legs gives upper body rotation which allows you to use your full back muscles as well. For training, do short sprints, and some longer slower steady stuff. All very simple and fairly obvious, but it works. And learn to paddle close to other people - you can save energy by getting in the slipstream.