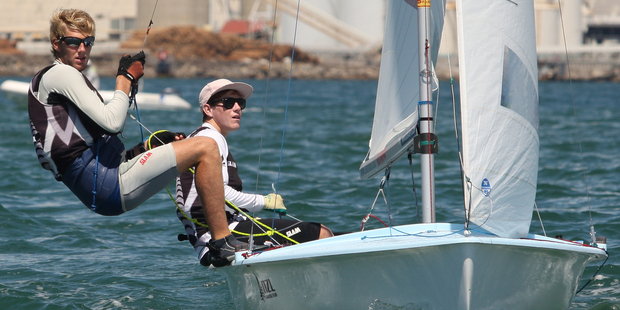 New Zealand 470 class sailors Paul Snow-Hansen and Jason Saunders will never get a better opportunity than these Olympics to move from relative obscurity to sporting royalty in the space of 11 races.
The 21-year-olds have steadily built a campaign since 2009. There has been a zephyr rather than a gale behind their development but they shape up as a nautical sleeper cell capable of a podium finish.
Third place at the most recent Sail for Gold regatta at the Games venue off Weymouth indicates they have parity with some of the best in the class. The result included four successive wins and victory over the world champion Australians Mat Belcher and Malcolm Page in two of the windier races. They were eighth at December's world championships in Perth and finished five ISAF World Cup events inside the top 10 that year.
The Weekend Herald spoke to the pair and coach Hamish Willcox at the Royal Dorset Yacht Club this week as they prepared to race on August 2 in their debut Olympics.
Willcox sailed the 470 to three world championships, coached New Zealand's last Olympic medallists in the class (Jan Shearer and Leslie Egnot, 1992) before going into weather analysis on America's Cup campaigns. Snow-Hansen says he's been crucial to their progress.
"He's a veteran coach at Olympic level so his advice has been welcome over the last couple of years."
Eight of New Zealand's 15-strong sailing team are aged 25 or younger. At 21, Snow-Hansen and Saunders form the youngest end of that bracket with 49er sailor Peter Burling, who's at his second Games. Willcox says the beauty of this regatta is that neither of his charges knows their capability.
"These guys don't know how high they can raise the bar. It's probably the most exciting campaign they'll ever compete in. It's learn, learn, learn and a case of identifying how much they can absorb."
Snow-Hansen is officially designated skipper with Saunders the crewman. The skipper says the conditions at Weymouth suit them.
"Coming from sailing off [Auckland's] North Shore we find this venue great. We couldn't wish for more similar breeze. The fact it's always changing gives us a chance to use all our skills on the [five] different courses. To get on the podium at the last Sail for Gold regatta here is a credit to what we've been doing."
Yet the key question will inevitably surface this Games campaign: Can they (or any other non-windsurfing crew) break New Zealand's 20-year keelboat medal drought?
Willcox is coy: "It's been a good venue for us and we're knocking on the door in four or five classes ... I'd be surprised if we didn't convert one non-windsurfing medal."