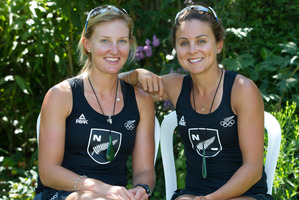 A case can be made that the most impressive single row by New Zealand's elite crews over this year's European campaign came from the two smallest women in the squad.
What made Julia Edward and Louise Ayling's win in their first race at the Lucerne regatta was that not only was it their first time together at international level, but they set a world record for the lightweight women's double scull.
"We had a massive tailwind and I thought 'this'll be a good day to crack seven minutes, which is the time we aim for," Edward said this week.
"We just wanted to get that first race out of the way and it felt so relaxed, really comfortable."
When they crossed the line in 6min 49.43s, "I thought 'Louise we definitely cracked seven minutes,"' she quipped.
They're an engaging pair - Edward, at 21 three years younger - who are clearly on the same wavelength.
Some crews benefit from having an edge in their relationship, in that their personalities may differ markedly but put them on a job together and they work well.
Edward and Ayling have discovered they share interests.
"We didn't know each other that well before we got in the boat together," Rotorua's Edward said.
"We've learnt we're so alike, it's crazy. We've shared lots of laughs together and that makes it more enjoyable because you can do the hard work on the water and be serious. Then when we get off it, it can be laughs and just enjoying the experience."
Added Ayling: "We have the same fashion sense, we agree a lot, like to do the same things, shopping, movies."
Having been pipped into second in that Lucerne final by .25s by Chinese pair Dongxiang Xu and Wenyi Huang, they won the following regatta leading from start to finish in a highly impressive row in Munich last month.
"I'm incredibly stoked with the hard work we've put in and it's finally paying off," Ayling said. "What we've come up with so far is far more than we ever expected."
Note the "so far", for the real business is about to start tomorrow night (NZT).
There are no guarantees in this business of being the best on a given day. The Chinese pair are sure to be difficult. Other crews will grow an extra leg with Olympic glory on the line.
It has taken time for this combination to be put together.
At Lake Karapiro in the world championships of 2010, Ayling won silver in the non-Olympic lightweight single. Edward and Lucy Strack were sixth in the double final.
Strack and Ayling were sixth in the double final at Bled last year, as the selectors tinkered about searching for the right key. They've certainly found it at the third attempt.