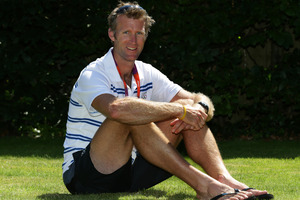 Single sculling gold medal contender Mahe Drysdale has acknowledged he is still battling a shoulder injury, but doesn't expect it to unduly affect his bid for Olympic redemption.
The five-time world champion looked the picture of a man without a care in the world this week.
He chatted happily about the state of his body and his campaign on a hot summer afternoon at the New Zealand team headquarters near Windsor in leafy Berkshire, a short drive from the Dorney Lake course where the New Zealand squad hope to write a stellar page in the country's Olympic story next week.
Several weeks ago Drysdale, out riding his bike, had a collision with a car in Munich which left him with a painful shoulder and rubbed him out of the third world cup regatta in that city a couple of days later.
"It still causes me a bit of pain," the 33-year-old said.
"For three weeks I had a pretty sore shoulder but as time has gone on it's got a little bit better.
For 95 per cent of strokes in a race it doesn't bother me at all. There's just the odd one, maybe because I put my shoulder in a slightly different position, and I'll get a shot of pain. But it's nothing."
Might it be the difference between gold and silver though? "No, no. If anything it's a distraction from how much my legs are burning," the tall Aucklander said with a laugh.
The unravelling of Drysdale's ambition in Beijing four years ago is well known. Carrying the New Zealand flag in the opening ceremony he became ill and by the time of the final, for which he was clear favourite, he was in no shape for the rigours of the challenge. He won a brave bronze but it took plenty out of him, and not just on the water. Picking himself back up again was tough, he said.
"Initially I had to make a decision on what I was going to do. Did I have it in me to keep going for another four years?
"I was either going to be in London or retire. I wasn't going to go for a year or two. A couple of months later I started to get the desire again."
New Zealand's head coach Dick Tonks was his first port of call.
"We discussed a few things and what I could do to improve. It soon became clear I could be better than I was there and still had a passion for it. There was that unachieved goal as well.
"You know it's a pretty tough sport, you have to perform on one day and you get that chance every four years. I was confident I could do it and 2009 probably showed the things I'd learned."
That year he set a world best time for the 2000m journey at Dorney Lake; and that was when he knew he'd made the right decision.
It's likely Drysdale and Czech Republic sculler Ondrej Synek, the 2010 world champion, will duel for gold. "I wouldn't put myself as favourite. I'd put Synek there right now, but I definitely believe I'll be in there."
His heat is among seven featuring New Zealanders when the rowing regatta starts tonight (NZT).