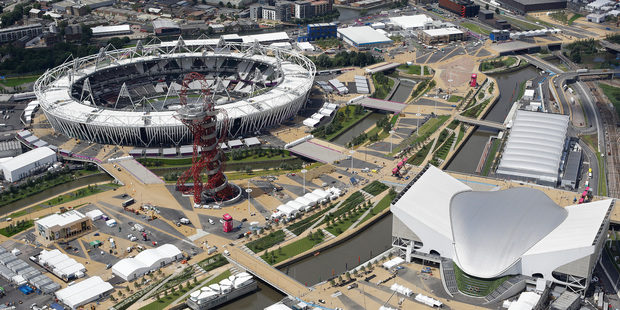 It's fast becoming the most overused word in London. Politicians and committee men are in danger of setting world records as they race each other to emphasise that these Games will be judged not only on the 17 days of competition, but on the "legacy" they leave behind.
The goals can be summarised thus:
• Leave behind world-class facilities and improved infrastructure
• Transform a large chunk of a downtrodden part of town
• Inspire more Britons, especially children, to play sport.
The first is a given, the second and third are more interesting and potentially far-reaching.
Stratford, home to Olympic Park, is virtually unrecognisable from the suburb it was when I lived in adjacent Mile End a little more than 10 years ago. Then it was known as dull by day and dangerous by night.
"The area was a toilet. There's no other way I can describe it," says East End born-and-raised cabbie Paul Renn, scanning the 220ha of the park.
"You can't underestimate what a big deal it is. This was a dump. It was derelict. What they have done is phenomenal, it really is. There's a lot of happy people around here now."
It is true that the park has transformed what was a contaminated wasteland. There are still patches of scruffiness - the sort of thing that would have provoked sniffy comment from the British press had it been Athens or Beijing - but it has scrubbed up well.
There are concerns, even if they are becoming more muted as excitement about the Games themselves intensifies.
Although Renn believes that if moaning was on the Olympic programme Great Britain would be guaranteed three more medals, there is a sense that the new vitality in the district will evaporate just as quickly when the temporary jobs created by the Olympics come to an end.
There will still be the shiny new Westfield City, a mall impressive even to those with an allergy to credit cards, but will there be people spending money in it?
In a newspaper column, IOC president Jacques Rogge, of Belgium, wrote: "[Locog chairman] Lord Coe and his team simply had to put legacy at the heart of their bid."
It is what tipped the scales when the IOC assembly opted for London over Paris by a narrow 54-50 margin.
For every pound spent on infrastructure, 75p has been dedicated to legacy purposes, according to Rogge.
"Legacy has not always been at the forefront of Olympic planning, however," he said. "Many years ago it was sometimes more of an afterthought to Games organisers; a concept often left to chance. Some host cities clearly fared better than others in this regard."
Those who gained a big tick are Barcelona, perhaps the "legacy" standard-bearer and Sydney. Those who failed are more numerous, from Montreal to Moscow, Atlanta to Athens.
The East End will be a prettier, more accessible place. Which leaves only the children.
Will the Olympics inspire an increasingly sedentary generation to get off their backsides and play sport?
The Minister for Sport and the Olympics, Hugh Robertson, said there was a clear link between success at elite level sport and wider participation, citing the 500,000 increase in cyclists after Britain's eight-gold haul at Beijing.
But the Conservative Government has been criticised for extolling the virtues of the Olympic Games as a means to engaging youth in sport while at the same time slashing school budgets, with sport being one of the big victims of the cost-cutting.
Renn the cabbie described the way state-sponsored school sport has withered as a disgrace and the numbers tend to back him up.
Figures this week revealed that 44 per cent of the British Olympic team attended public schools - what we would call private - a staggeringly high percentage when you consider that only 7 per cent of children are privileged enough to attend those institutions.
These Games might be mainly hosted among the most blue-collar boroughs of London, but the make-up of the British squad would suggest the class system is alive and well on the sporting fields. (It's not just Olympic sports either; only three players in the current England test cricket team were state-educated.)
Lord Coe and his cohorts might find it a bit harder to legacy their way out of that one.