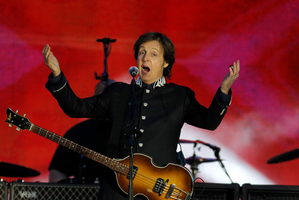 The London Olympics will be remembered as much for what happens off the track as on it. Herald.co.nz reporter - and former-eighth fastest cross country runner at Greenhithe Primary - Paul Harper sums up the incidents and controversy surrounding the games.
Empty seats at the opening ceremony?
After thousands of Britons missed out on tickets to events during the ballots, London 2012 organisers have confirmed the opening ceremony has not sold out. "A few" tickets are still available - but cost a whooping NZ$3945 or NZ$3136 apiece - leaving the prospect of empty seats at tomorrow's showpiece of everything British.
Even on his Premier League wages footballer Fabrice Muamba said £1600 for a standard seat was a "ridiculous price", saying on Twitter he'll be watching at home.
However organisers are confident the tickets will be sold.
Meanwhile organisers have struggled to keep the details of the extravaganza under wraps, with footage of a rehearsal leaking onto YouTube. Although it has since been removed, this guy has a fair idea of who will be providing the musical entertainment.
"I've heard Paul McCartney do 'Hey Jude' twice," a bartender on Euston St told AP. "At least it sounded like him."

The Mitt hits the fan
Republican presidential candidate Mitt Romney has got his trans-Atlantic friends' noses out of joint, after questioning whether Britain is ready to host the Games. Romney's attempts to showcase his potential as a statesman on the world stage went awry when he said security staffing concerns ahead of the Games were "disconcerting".
Romney later backtracked, saying he expected the Games to be "highly successful". While the gaffe forced an apology of sorts from Romney, others aren't so sure what the fuss is about, as it is not like Romney is saying anything Brits aren't saying themselves.
Romney also appeared to have forgotten the Labour leader Ed Miliband's name during their joint press conference, calling him "Mr Leader", but again this should perhaps be excused as most Brits probably couldn't name the awkward politician either.
Moroccan't wee
Two Moroccans footballers giving urine samples for doping checks took two and a half hours to wee - because they are fasting for Ramadan. The team's coach, Pim Verbeek, said it was "more or less impossible" for the pair to give the samples after the side's 2-all draw with Honduras, as they hadn't eaten since 2.30am, about 12 hours earlier.
Ramadan began last Friday.
However one British Muslim athlete has chosen not to fast for the month, as he felt he would lose his competitive edge. Instead, rower Mohamed Sbihi has opted to pay for food for 1800 people via English-based charity Walou 4 Us, that works with kids in Morocco, AP reported.
"It's written in the Quran that those unable to fast have to feed 60 people or fast for 30 days for every day they miss intentionally," Sbihi said.
It's all Farsi to me
Westfield Stratford, the official shopping centre of the Olympic Games (because the Games for some reason needs an official shopping centre), has had to replace its Arab-language "Welcome to London" banners - as they were written backwards.
According to an AFP report, Arabic readers thought the signs were written in Farsi. The mishap comes after multi-language posters at train stations warning people not to leave any items unattended were also written in a similar fashion.
Pfft, Wales, England, same thing.
First North Koreans stormed off the pitch after the South Korean flag was displayed at the women's football, now a Welsh footballer has been described as English.
Welshmen Ryan Giggs, Craig Bellamy, Neil Taylor and Aaron Ramsey were all identified correctly in the team programme ahead of Team GB's clash with Senegal, but countryman Joe Allen wasn't so lucky.
Organisers apologised and said the error would be amended ahead of the next game, the Guardian reported. It comes as Ukraine's Foreign Minister, Konstantin Grishchenko has complained after Ukraine was listed as a region of Russia in the official London 2012 biographies of some athletes.
Here's hoping the Aussie anthem isn't played when our heroes are atop the podium in the coming weeks...