Who is in the New Zealand Olympic squad and who will be our likely medal prospects?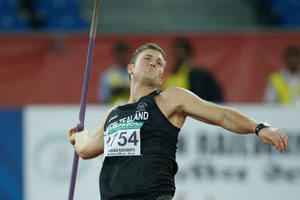 Athletics
Valerie Adams (shot put), Sarah Cowley (heptathlon), Lucy van Dalen (1500m), Stuart Farquhar (javelin), Brent Newdick (decathlon), Quentin Rew (50km walk), Kim Smith (marathon), Nick Willis (1500m).
Tip: Adams is under renewed threat from Nadzeya Ostapchuk, but is a champion. Smith should be prominent, at the very least in the early stages.

Boxing
Alexis Pritchard (lightweight), Siona Fernandes (flyweight).
Tip: A first-time Olympic sport. They'll need a favourable draw.
Canoeing
Flatwater: Ben Fouhy (K1 1000m), Steven Ferguson/Darryl Fitzgerald (K2 1000m), Lisa Carrington (K1 200m), Carrington/Erin Taylor (K2 500m), Teneale Hatton (K1 500m)
Slalom: Mike Dawson (K1), Luuka Jones (K1).
Tip: Watch for defending world K1 200m champion Carrington, who must be a strong medal contender.
2004 Olympic silver medallist Fouhy's form has been wretched, but keep an eye on the Carrington and Taylor pairing, which appeals as an outside chance for a medal. The slalom racers are in a sport where there can be little between top 10 and 40th. They'll need some luck to figure.

Cycling
Track
Men: Shane Archbold (omnium), Sam Bewley (team pursuit), Eddie Dawkins (team sprint), Aaron Gate (TP), Westley Gough (TP), Ethan Mitchell (TS), Marc Ryan (TP), Jesse Sergent (TP), Simon van Velthooven (TS, keirin).
Women: Rushlee Buchanan (TP), Lauren Ellis (TP), Natasha Hansen (sprint, keirin), Joanne Kiesanowski (omnium), Jaime Nielsen (TP), Alison Shanks (TP).
Road: Jack Bauer, Greg Henderson, Linda Villumsen.
BMX: Sarah Walker (women's individual), Marc Willers (men's individual), Kurt Pickard (men's individual).
Mountainbike: Karen Hanlen (women's individual).
Tip: They promise so much, but the field is so strong they may yet deliver little. Both the team pursuits will be disappointed if they finish off the podium, but the Ockers and Brits were so far in front at the world champs, it is difficult to think beyond bronze. Van Velthooven is a puncher's chance in the kierin. Villumsen is a real chance of a medal in the time trial, and Sarah Walker likewise in the BMX.
Equestrian
Dressage: Louisa Hill (individual).
Tip: Hill, an Athens 2004 Olympian and her horse, a 10-year-old Hanoverian called Bates Antonello, qualified comfortably late last year. Not a medal contender but capable of a solid performance.
Eventing: Mark Todd, Andrew Nicholson, Jonathan Paget, Caroline Powell, Jonelle Richards (four to form team, one individual).
Tip: A real medal chance, with a strong quintet led by the ageless seven-time Olympians Todd and Nicholson. Paget is an outstanding talent, while Powell and her mount Lenamore are a terrific combination. Richards got the final spot, after luckless Clarke Johnstone was a late withdrawal through injury.
Hockey
Men
Goalkeeper: Kyle Pontifex.
Defenders: Dean Couzins, Andy Hayward, Blair Hopping, Richard Petherick, Brad Shaw, Nick Haig.
Midfielders: Steven Edwards, Ryan Archibald, Phil Burrows, Shea McAleese, Blair Hilton.
Strikers: Simon Child, Stephen Jenness, Nick Wilson, Hugo Inglis.
Women
Goalkeeper: Biana Russell.
Defenders: Alana Millington, Clarissa Eshuis, Sam Charlton.
Midfielders: Kayla Sharland, Emily Naylor, Ella Gunson, Sam Harrison, Gemma Flynn, Anita Punt, Stacey Michelsen, Melody Cooper.
Strikers: Charlotte Harrison, Cathryn Finlayson, Katie Glynn, Krystal Forgesson.
Tip: They have prepared to the minutest detail and have a squad crammed full of talent, so there are no reasons why we shouldn't expect the women to progress at least to the knockout rounds. The men are honest, but not as star-studded as other squads.
Judo
Moira de Villiers (under 70kg).
Tip: South African-born de Villiers is in the under 70kg division and unlikely to figure at the sharp end of competition.
Rowing
Men: Mahe Drysdale (single scull), Eric Murray/ Hamish Bond (pair), Nathan Cohen/Joe Sullivan (double scull), Peter Taylor/Storm Uru (lightweight double), Robbie Manson, Matthew Trott, Michael Arms, John Storey (quad), Sean O'Neill, Chris Harris, Jade Uru, Tyson Williams (four).
Women: Emma Twigg (single scull), Rebecca Scown/Juliette Haigh (pair), Anna Reymer/Fi Paterson (double scull), Julia Edward/Louise Ayling (lightweight double), Eve Macfarlane, Fiona Bourke, Louise Trappitt, Sarah Gray (quad).
Tip: Expected to be New Zealand's most successful sport in London. Several strong medal chances. Bond and Murray are unbackable favourites. Five other crews are strong podium contenders. Keep an eye out for Drysdale, Taylor and Uru, Edward and Ayling, Haigh and Scown and Cohen and Sullivan.
Sailing
Men: Dan Slater (Finn), Hamish Pepper/Jim Turner (Star), JP Tobin (RS:X), Andrew Murdoch (Laser), Paul Snow Hansen/Jason Saunders (470), Peter Burling/Blair Tuke (49er).
Women: Sara Winther (Laser Radial), Jo Aleh/Olivia Powrie (470), Stephanie Hazard/Jenna Hansen/Susannah Pyatt (women's match racing).
Tip: Sailing needs a strong regatta, not having won an Olympic title, other than on a board, for 28 years. Aleh and Powrie appeal, having won the last two Sail for Gold titles on the Olympic course at Weymouth. Late arrivals Pepper and Turner, and Burling and Tuke should be contenders, and look for Snow Hansen and Saunders as surprise chances.
Shooting
Ryan Taylor (50m smallbore prone).
Tip: The smallbore man got in at the last minute, after an appeal process to get New Zealand's one quota spot. Not rated a contender.
Soccer
Men
Goalkeepers: Jake Gleeson, Michael O'Keeffe.
Defenders: Ian Hogg, Tim Myers, Tommy Smith, Ryan Nelsen, Adam Thomas, James Musa.
Midfielders: Tim Payne, Michael McGlinchey, Alex Feneridis, Cam Howieson, Adam McGeorge.
Forwards: Kosta Barbarouses, Shane Smeltz, Chris Wood, Marco Rojas, Dakota Lucas.
Women
Goalkeepers: Jenny Bindon, Rebecca Rolls.
Defenders: Ria Percival, Anna Green, Abby Erceg, Rebecca Smith, Ali Riley, Kristy Hill, Rebekah Stott.
Midfielders: Katie Hoyle, Hayley Moorwood, Kirsty Yallop, Betsy Hassett, Annalie Longo.
Forwards: Amber Hearn, Sarah Gregorius, Rosie White, Hannah Wilkinson.
Tip: No chance, although the Football Ferns can give the hosts indigestion in the opening event of the Games in Cardiff, while the men have the thrill of a contest against perennial superpowers Brazil to savour.
Swimming
Men: Gareth Kean (100m and 200m backstroke, 4 x 100m medley), Daniel Bell (100m backstroke, 100m butterfly, 4 x 100m), Glenn Snyders (100m and 200m breaststroke, 4 x 100m medley), Matt Stanley (200m and 400m freestyle, 4 x 200m freestyle), Steven Kent (4 x 200m freestyle), Dylan Dunlop-Barrett (4 x 200m freestyle), Andrew McMillan (4 x 200m freestyle, 4 x 100m medley), Carl O'Donnell (4 x 100m medley).
Women: Melissa Ingram (100m and 200m backstroke, 4 x 200m freestyle), Lauren Boyle (200m, 400m, 800m freestyle, 4 x 200m freestyle relay), Hayley Palmer (50m freestyle, 4 x 100m freestyle), Natalie Wiegersma (200m and 400m individual medley), Amaka Gessler (4 x 200m freestyle relay, 4 x 100m freestyle relay), Natasha Hind (4 x 200m freestyle, 4 x 100m freestyle), Sam Lucie-Smith (4 x 200m freestyle), Penny Marshall (4 x 200m freestyle, 4 x 100m freestyle).
Tip: Look for breaststroker Snyders, backstroker Kean and freestyler Boyle. All three have the ability to make finals. Snyders is ranked No 8 in the 100m, as is Kean in his 100m, and 11th in the 200m backstroke. Boyle is No 11 in the 400m freestyle. An outside chance? Try Stanley, who goes in 12th in the 400m freestyle.
Taekwondo
Men: Logan Campbell, Vaughan Scott.
Women: Robyn Chong.
Tip: All have reasonable world rankings, although those can be misleading. Not a sport in which New Zealanders are noted international performers.
Tennis
Marina Erakovic (women's singles)
Tip: Lots of breath expended over her selection. Needs a good draw, and two wins to make the targeted last 16. Will be tough.
Triathlon
Men: Bevan Docherty, Ryan Sissons, Kris Gemmell.
Women: Andrea Hewitt, Kate McIlroy, Nicky Samuels.
Tip: Andrea Hewitt is among the world's finest and must rate a medal chance. Elsewhere don't go counting any chickens. The men look off the formidable pace being set by the British brothers Alistair and Jonathan Brownlee; McIlroy and Samuels similarly are unlikely to threaten the best in the field.
Weightlifting
Richie Patterson (under 85kg).
Tip: For Patterson, just getting to London was a heartwarming story, courtesy of his injured team-mate Tevita Ngalu. But a medal opportunity? No.