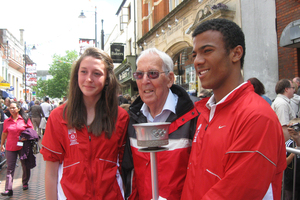 A New Zealander has thrilled a small England town by lending it the Olympic torch his father ran with through its streets in 1948.
When the games were held in the United Kingdom more than 60 years ago, 21-year-old Basingstoke athlete Bill Plester was chosen to carry the Olympic torch through the Kent town.
He got to keep the torch after carrying it for 3.2km. It stayed with him when he migrated to Auckland in 1949 and it was passed through his family, making quite a unique item to take to Show and Tell at school.
"It's been to any school we've ever been to, plus any cousins', plus any cousins'," said Bill Plester's son, Steve.
Made of aluminium and weighing slightly less than 1kg, the torch - one of 1500 made for the 1948 relay - was used to carry the traditional flame for part of the journey from Greece to London, before it headed to Torquay for the sailing events.
About two years ago, Steve Plester was doing research on the torch. This led to a conversation with one of the founding members of the Basingstoke Athletic Club, who competed alongside Bill Plester. Steve was then put in touch with the woman running the 2012 Olympic events at the club.
"And it all just went from there," said Steve Plester, of Howick. "I said, 'If you want to borrow it for the Games and are prepared to ship the thing over there and display it, I'd be more than happy to do so'. And they got all excited, so we shipped it over."
The torch will be displayed at The Willis Museum for the duration of the London Games.
Ruth Kerr, community engagement and learning officer for Hampshire County Council's arts and museum services, told local publication the Gazette: "With the torch relay coming through Basingstoke, it really is priceless to have it here."
Steve Plester said his father's mates had already sent him a photograph of them holding the torch in its original hometown.
"They all had white gloves on because they're not allowed to touch the thing - not that about fifteen million kids haven't touched it already. Never mind," he joked.
All Mr Plester asked for was a photograph of his father's Olympic torch with the 2012 one that passed through Basingstoke on July 11.
"What I would have liked to have seen was the two run together, but they've said that one of the runners has agreed to go into the museum afterwards ... and have a photo of both of them.
"And I said, 'If you're able to organise that, that's my price', given that they wouldn't spring for a first-class ticket to the UK for me," he joked.