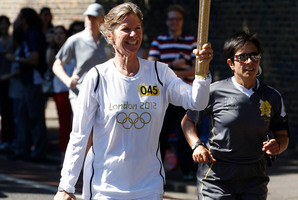 As Barbara Kendall jogged 300m down a leafy London road carrying the Olympic torch yesterday, she also took a stroll down memory lane.
For the three-time Olympic medallist and five-time Olympian, it is the first time in 20 years she hasn't been competing at the Games.
She won gold in women's boardsailing in her first Olympics in Barcelona in 1992 and followed it up with silver in Atlanta, bronze in Sydney and sixth in her final Olympics in Beijing, 2008.
"It's a little bitter-sweet," she said. "But it was definitely time to retire."
These days, the 44-year-old is a member of the International Olympic Committee, which is how she got the chance to join the 8000 torchbearers delivering the Olympic flame to the opening ceremony.
The torch is making its final journey to the Olympic Stadium for Saturday's (NZT) opening ceremony.
In recent days has travelled around the London Eye, been to the Wimbledon tennis centre and even appeared on a live episode of Eastenders.
Yesterday's 69.15km journey through south-west London, started by former Olympic rowing champion James Cracknell, was to be continued on an underground train adorned with Olympic rings and also featured stints by musician Katy B and Grammy and Brit award-winning producer, DJ and artist Mark Ronson.
Kendall was cheered on by scores of people lining the streets as she jogged with the 800g torch on a day threatening to be London's hottest of summer.
She was also followed by a full entourage of security and support vehicles. She then hugged the woman who took over.
It was the second time Kendall had carried an Olympic torch after being involved in the leadup to the 2010 Vancouver Winter Olympics.
"You don't have a sense of how amazing the torch relay is until you get involved," she said. "It was pretty amazing to represent New Zealand and pretty cool to link with the torch."
Kendall is participating in three days of IOC meetings before attending the opening ceremony. She will go to Weymouth to coach Australian RS:X boardsailor Jessica Crisp and also help New Zealand boardsailor JP Tobin.
"I can't get away from the Olympics," she said. "It's in my blood. It's like a life sentence."
- APNZ