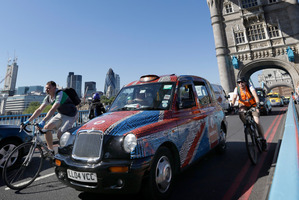 There are some things you can bank on as topics of conversation when you step into a London cab.
Here's a line you would never expect to hear from the mouth of an East End cabbie: "Richie McCaw, I mean what a subliminal player."
Come again? The Olympic Games are around the corner but Pat, who hails from Mile End Rd - and therefore from the same broad neck of these London woods - is thrilled to talk rugby. It's not what you'd call a natural fit.
"Everyone I know was so happy the All Blacks won the World Cup," he said during a conversation on why it is so good, and so important, for the Games to be not only in London, but in this part of the great city.
"You know, with the earthquakes and that, it was just terrific."
He knows his rugby. It's his favourite sport but the East End is not a natural rugby habitat.
"I'm six foot six so I couldn't play football. All my mates are West Ham and Tottenham fans but I love my rugby."
Looking at him folded into his seat, his head slightly bowed to avoid squashing against the roof, he had to have been a lock. With hands like shovels, you'd have hazarded a guess he would have been well capable of putting himself about too.
Pat is understandably big on the Olympic Games. He's got no time for the doom and gloom types who say it'll cost too much and muck up everyday life. "We'd win a gold medal in moaning, we would, that's for certain."
Many of his colleagues aren't so taken with the Games, however. A mass protest over Tower Bridge by cabbies fed up with restrictions on trade and road use made a point to the Government.
Pat's a glass-half-full kind of cabbie, hopes the Games will be a boon not only for the eastern part of the city, which is his patch, born and bred, and which was a tip 10 years ago.
His fervent hope is that it helps turn teenagers to sport.
"Let them see Usain Bolt, give 'em something to aim for," he said.
Pat knows the French - whose style he doesn't mind either, to be fair - gave the All Blacks a seriously tough contest in the World Cup final at Eden Park, but it would have been wrong had the result gone the other way.
A parting offering: "You deserved it, for everything. Just talking about it makes the hairs on me neck stand up."