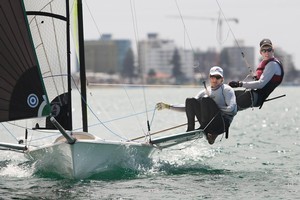 Yachting New Zealand Olympic director Jez Fanstone catches himself as he blurts out the words.
"Peter is going to his second Olympics at 21 - that's just mad, actually," he said disbelievingly.
Peter is Peter Burling, who in 2008 became the youngest person to sail for New Zealand at an Olympics. He was 17. His partner in the 470s was Carl Evans, four-and-a-half months his senior, and the pair finished 11th.
This time Burling is the "experienced" campaigner and will team up in the 49er class with 23-year-old Blair Tuke, competing in his first Olympics.
They know how to make the boat go fast, having finished second at both the 2011 sailing world championships in Perth and this year's 49er world championships, but Nathan Outteridge and Iain Jensen seem to be able to go even faster.
The Australian pair have dominated the two-handed skiff since the last Olympics, when they capsized in the final race and finished out of the medals, and won the last world championships by a staggering 21 points over Burling and Tuke.
In the past 12 months they have won Sail for Gold, the Olympic test event, European championships and World Cup regatta. Three of the four were contested at Weymouth, the venue for the Olympic sailing.
Second would represent a good regatta for Burling and Tuke but they believe they can topple the favourites.
"You don't give away four years of your life just to go there and not win," Burling said.
They have some inside knowledge of their rivals, considering Outteridge and Jensen are also their training partners, but it would be dangerous to keep too close an eye on the Australians when competition in the 49er class starts on Tuesday (NZT). Fleet racing can be chaotic at times and crews need to focus on making the boat go fast rather than what others are doing.
Burling, who skippers the boat, and Tuke like to take things to the brink in a class where high speeds are achieved.
"When you start easing back, that's when it doesn't work," Tuke said. "You have to be on the edge and that means pushing the boat hard. There are times when it's really windy and you might be in a good position and you might ease back but we try to push ourselves harder on Auckland harbour than what we hope we will experience in Weymouth so we can cope with any situation."
"We try to push it harder than everyone else," Burling offered. "We are the last ones to have to back off."
They are acknowledged as two of the better sailors in the breeze and will hope conditions in Weymouth match expectations.
It's the one thing they can't control, however, and means they have to get everything else right.
"The detail they put into the programme and the way they are operating now is world-class," said Fanstone, who is also their coach. "They have a good mix of skills. Pete is an engineer and is really detailed on the equipment. Blair is a bit more outgoing so drives communication, which is really important in a two-person boat. And they get on really well ... It's a really good package."
- APNZ