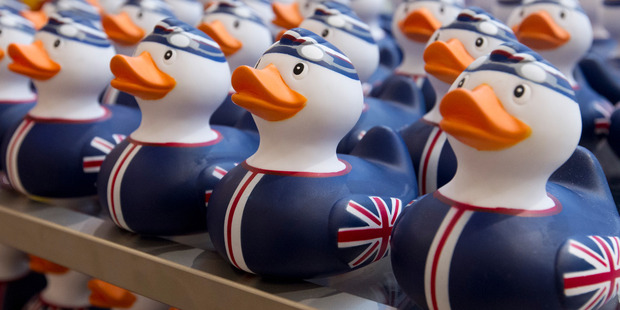 At the John Lewis store near Olympic Park, there is every kind of tat you could wish for.
It really wouldn't be the done thing to support your compatriots without a Day-Glo plastic Olympic shoulder bag - a snip at just $70.
The store is housed inside Westfield Stratford City, the third largest mall in the UK, built near the park to enrich the sporting "experience".
It's unlikely that the Greeks had this sort of thing in mind, but welcome to the modern Olympics, where laurel wreaths have been superseded by Big Macs and massive shopping centres as icons of the Olympiad. (Olympic Park also houses the largest McDonald's in the world because, as you know well, [retired British rower] Sir Steven Redgrave would not have won five gold medals at five consecutive Games without a regular intake of cheeseburger combos.)
But back to John Lewis and its enticing array of Olympic essentials.
There's Olympic butter biscuits in cute double-decker bus packaging for $20; a range of official mugs from $14 to $20; and rubber duckies for $10 (in the colours of your country, of course, as long as you're from Britain, the United States, France or Australia).
If it's clothing you're after, there are T-shirts and jogging pants.
For the new parents, your baby will look as cute as a button in their Olympic bodysuit, worth every cent of its $28 price tag.
Up the escalators and on to a floor with its own Olympic Superstore, just in case you had missed the theme.
Here's where you need to display remarkable self-control because the Darlington Crystal Olympic paperweight is positively come-hither winking at you at just $90.
If you can negotiate your way past the special edition Olympic playing cards ($13) and resist the special edition Olympic £5 ($9.82) coins (that cost, confusingly, $15) then you come to the coup de grace - three sensational items of silverware that no self-respecting kitchen can do without.
You might prefer the long jump measuring teaspoon - at just $40 a real bargain.
Or the discus teapot, a little more pricey at $400 but, hey, we're talking the centrepiece of home entertainment here.
But my personal favourite is an item that screams class from the moment you clasp eyes on its velvet inlaid box (which is actually just cardboard made to look like velvet, but the effect is still mesmerising).
In that box is a pair of $190 servers that would add sparkle to any Caesar, Greek or plain old green salad.
You would have already guessed that they're not just any old servers. These are shaped to mimic rowing oars.
Yes, you can throw a lot of labels at the Olympics, but they could never be accused of being tacky.