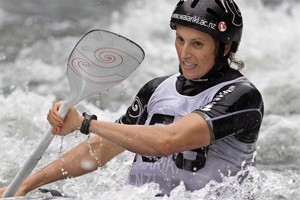 Canoe slalom racing conjures up images of paddlers battling a pristine river of rapids but the Olympic course will be entirely man-made, complete with plastic rocks, a small "mountain" and 100 per cent chlorinated water.
Luuka Jones and Mike Dawson are New Zealand's two representatives and both have ambitions of at least finishing in the top 10. Both have spent most of the year training on the course, which is completely different from four years ago for Jones when she qualified late, raced the course after limited preparation and finished at the tail of the field.
"The course here is fantastic," Jones said.
"It's one of my favourite white water courses because they have done a great job with it and the surroundings."
About 14 to 16 cubic metres of water is pumped down the course each second and paddlers must not only race quickly but also cleanly as they navigate a series of gates.
Time penalties are added if they touch these gates.
"There's no let-up on the course," Dawson said. "There's no flat section at all. Once you start, you are pretty much going the whole way. You have to get off to a good start and stay on the right track from top to bottom. Once you start making mistakes they accumulate the whole way down.
"The river is pretty much 100 per cent man-made now - or natural that has been adapted with diggers. They have built a little hill and a canal and it drops about 6m. They have put plastic rocks in and that creates the constriction for the water. There was nothing there before and it's 100 per cent chlorinated water. It's very clean, green."
Jones and Dawson are the only New Zealand competitors at the Athletes' Village, with others dispersed around the country or coming in this week. They will be on their own when they race next week, too.
- APNZ