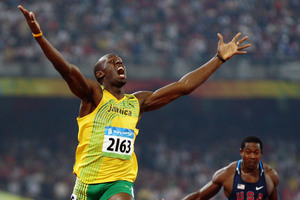 You may not know the name Alan Bell but you will remember him. In fact, if your name is Usain Bolt you will struggle to forget him.
Bell was the starter who disqualified the Jamaican at last year's World Championship, and whose fingers will again be on the trigger when the gun fires for the 100m and 200m finals at London 2012. Pressure? Well just a bit.
The 61-year-old is acknowledged as the world's leading starter, but appreciates the dangers of upstaging the world's most famous athletes. He leans back on a chair in the living room of his house on the outskirts of Carlisle, in the far north of England, and sighs wistfully. "Well, it's quite strange," he says. "I've become infamous because of that one incident. And, as an official, anywhere that you're working in the world you actually want to be anonymous. You don't enjoy any disqualification because you're in a situation where the athlete has worked hard to be on the track."
The hard graft the reigning Olympic 100m champion and world record-holder put in before the World Championship in Daegu last August was clear to see in the BBC1 documentary Usain Bolt: The Fastest Man Alive.
So was his despair when he false-started in the 100m final.
Tellingly, Bolt was raging at his own stupidity in trying to beat the gun rather than at the one-strike-and-out false-start rule that prompted so much controversy after his disqualification.
"I've reflected a lot on Daegu," says Bell, "and thought, 'Well, one, we had no choice; and, two, he really did make a bad job of it. It wasn't even marginal.' I've looked at it a lot on television, as many people have, and I just wonder whether he just had a lapse in concentration. I suppose only he knows.
"Like a lot of people, I just hope Usain Bolt and all the other top sprinters come to London and they're all at the peak of their form and we have one hell of a race."
After Bolt's Daegu disqualification, the International Association of Athletics Federations declined to reconsider the one-strike rule.
Bolt said he was in favour of it.
As for Bell, the man with the golden gun, he says: "I think there are two things that have to be borne in mind. The first is that the rule is universal, so it's irrelevant of personality. What happened in the 100m in Daegu was high profile because of who was involved.
"The second is that it was not long after the rule had been amended. The athletes generally around the world - and I'm fortunate that I do get to start around the world - have adjusted to it very well, I think."
- The Independent