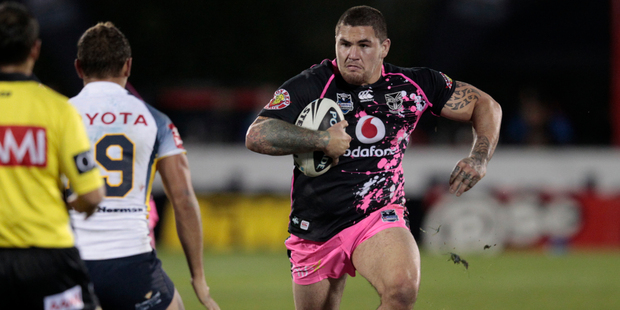 It might surprise more than a few Warriors fans but Russell Packer is still only 22. The bulldozing prop played his 95th NRL match last night and seems part of the furniture at Mt Smart, having made his debut back in 2008.
But much has changed since a teenaged Packer arrived in the big smoke after spending his formative years in Levin. "I've had to grow up a lot," Packer told the Herald on Sunday.
"When I came here, I was pretty young and had a lot to learn. Now I'm one of the more experienced players and I've got a young family of my own. It changes you; it changes you a lot."
"Russell's been in the system a long time," observes coach Brian McClennan, "and he has become a highly professional member of this set-up. He's been around guys like Steve Price and Ruben Wiki and picked up a lot from them. We have a few quiet boys but Russell is a big talker for this team - on and off the field."
As has become customary in his career, Packer had a slow start to 2011, partially due to off-season calf surgery which he admits took a lot out of him.
The operation was to ease compartment syndrome, which caused his calf muscle to seize up during games.
He was immobile for two weeks after the November surgery but recovered to take his place in the side for the opening day clash with Manly. It was doubly tough as gun props Sam Rapira and Jacob Lillyman, part of 2011's awesome foursome, as well as Micheal Luck, were sidelined.
"It wasn't easy," remembers Packer. "We had a new coach, a new structure and a lot of our regular boys missing. But you just have to play on and get stuck in."
In the past two months Packer has been back to his best. The 110kg prop is extremely mobile for a big man and expert at absorbing the impact of a tackle but still making an extra couple of metres with each carry. He is a more than capable defender, averaging over 21 tackles a match before last night's game, more than any other prop at the club. He is also putting in more than 40 minutes a game and just under 100m and 10 hit-ups a game.
"Along with Ben [Matulino] and Jacob [Lillyman], Russell has been a big part of our go-forward and one of the reasons we have been doing well in the arm wrestle," says McClennan.
Packer has also added to his skill set, now more than capable of adding a pass or a step before the defensive line. Other forwards in the team tend to gain more plaudits for their attacking play but Packer's amazing offload against Souths in round seven showed what he is capable of.
"I've been working on a few things," says Packer, "like the little pass before the line. As a front-rower you can draw in a few more defenders in all the traffic."
"Russell is making good decisions with the ball," says McClennan, "and increasing his options all the time."
Packer has his emotional side: of all the Warriors he was clearly the most distraught after last year's grand final loss to Manly.
The 1.88m prop, nicknamed 'Fudge' or 'Rusty' around the club, made his Kiwis debut last year and looks a good chance to gain more international honours in October.
First though, there are six more NRL games to get through - and hopefully another trip to the finals.