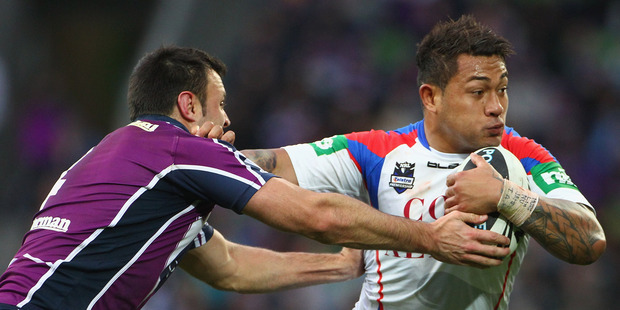 Unwanted Newcastle centre Junior Sa'u is determined to fight for his place at the Knights - despite obvious indications that he is on the outer with Wayne Bennett.
As he has for most of this season, Sa'u watched last night's clash with the Warriors from his couch, not required for the trip across the Tasman.
Before this season, the Aucklander had played 78 NRL games for Newcastle across four seasons and was a fixture in the backline under coaches Brian Smith and Rick Stone.
Sa'u, who has played nine tests for the Kiwis since 2009, has made just eight first grade appearances this year and has spent most of the season playing NSW Cup.
The portents are not good. Timana Tahu was woefully out of form for much of this season but the veteran was still preferred to Sa'u and Bennett is not known for changing his mind.
Despite this, Sa'u is upbeat about his situation and surprisingly positive about Bennett's influence.
"I've learnt a lot from him," Sa'u told the Herald on Sunday, "stuff I never thought I had inside of me. He teaches you a lot about the 'one per centers' and he is an awesome coach - the best I have ever been under."
According to Sa'u, adapting to the Bennett style and way of working has been a challenge for the entire club.
"Everyone is buying in to what Wayne is trying to do," says Sa'u. "The game plan under him is quite different and he is trying to change a lot of things around the club."
Sa'u admits being consigned to reserve grade is never easy but he is determined to stay positive.
"There are things I can't control," says Sa'u. "All I can control is what I can do I on the field. Sometimes I am a bit down but there is no point being negative and upset."
The 25-year-old has another year remaining on his contract but seems unlikely to see it out. He has already been linked to Canberra and Cronulla and looks likely to be part of a clear-out.
Few players have reversed Bennett's viewpoint, with former Bronco Michael Hancock and Luke Priddis rare examples.
Hancock was about to be cut in 1996 when he convinced the coach to give him another chance and the winger won three more NRL titles with Brisbane. According to Rugby League Week, Priddis agreed to Bennett's suggestion that he retire at the end of 2009 as long as he was paid out in full for 2010. Bennett baulked at this, and Priddis played 19 games in that title-winning year.
Sa'u was reluctant to speculate on next year but insisted he wanted to remain on the Central Coast.
"We'll see what happens," says Sa'u. "I'm keen to stay but it is hard to tell what will happen. I can't worry about it, I'm just focused on this season."
He admits he also has little hope of Kiwi selection this year but wants to regain his spot for the 2013 World Cup.
Sa'u still enjoys the laidback life in Newcastle. The trained hairdresser, who wants to work as a barber when he hangs up his boots, cuts several team-mates' hair in his spare time.
"I've been doing it for a while," says Sa'u. "The boys often hit me up for a cut but it is something I enjoy."