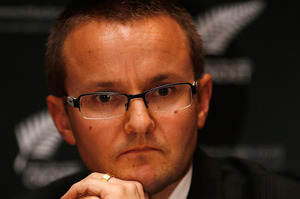 Few casual cricket followers know much about new Black Caps coach Mike Hesson. Andrew Alderson looks at his career and says New Zealand Cricket has got this one right.
Mike Hesson has been in tight spots before. Just recently, in fact. He left New Zealand to coach Kenya, frustrated at inaction over the posts of the Black Caps' national selection manager (now filled by former Australian lawn bowls executive Kim Littlejohn) and team manager (now Mike Sandle) positions.
On his first day on the job in Kenya, he had to quickly get to grips with pidgin Swahili and act as go-between for the players and the board.
Whatever happens with the Black Caps can't be as a difficult as that - or the physical dangers to he and his family that they later discovered in Africa - but New Zealand Cricket deserves a rare pat on the back for this selection after so much strife over the John Wright-John Buchanan saga.
The governing body could not afford to repeat the mistake of allowing local talent to drain away as in July last year when the former Otago mentor left on his ill-fated trip to Kenya.
Hesson must now prove New Zealand is capable of producing its own mentors, coaches and leaders rather than relying on overseas hands. It might seem premature he has been appointed to a more senior role than the NZC ones he missed last year but his unflappability and objective approach are what the team needs.
Few people have as much respect as Hesson around the players, coaching staff and media. He demands results of his teams and himself. He has already hinted at a bolder, aggressive limited overs approach.
The 37-year-old's main hindrance is the public profile he lacks, by virtue of his selflessness. A career coach, he puts his players first.
He stresses the need to get players to make their own decisions rather than having their hands held. Yes, it's easy to say, but Hesson has also proven it can be done. Take his record at Otago.
Hesson spent 15 years perfecting his trade with the province under the likes of Glenn Turner before becoming Otago coach in 2005-06. The province traditionally struggled for talent and playing numbers. He galvanised the team with his communication skills and work ethic. The result: Otago won their first title in 20 years - the State Shield in 2007-08 - and backed it up with the Twenty20 championship a year later.
He has coached New Zealand A on a number of tours, helping mentor the likes of Nathan McCullum, Craig Cumming, Gareth Hopkins, Neil Broo and, Aaron Redmond into national ranks. Hesson is also a respected confidant of Brendon McCullum. His appointment could bring out the best in the 30-year-old during his final years. His recruitment skills brought South African-born fast bowler Neil Wagner and 2011 England cricketer of the year Jonathan Trott to Otago.
The Herald on Sunday wrote of Hesson's ambition (and ability) to coach New Zealand as far back as December 2009.
The then-Otago captain Cumming said of Hesson: "While he's young, he's spent his whole working life as a coach so he's aware of player problems. A lot of us when we leave school try to be cricketers but Hess went down the coaching route, doing a lot of the groundwork in the technical stuff which players can take for granted."
Cumming retired last season but in 2009 suggested Hesson was a reason he was continuing well into his 30s.
"I know his approach is one our players enjoy and he's brought the best out in a lot of Otago players. A part of it is being a man-manager, you don't have a convenor of selectors, you're hands-on with everything. He's a big reason why I'm still playing."
It now remains to be seen how Hesson runs the team. NZC might take note of the two best teams in the world at the moment. South African head coach Gary Kirsten and England boss Andy Flower work in a general management capacity with lieutenants to monitor bowling, batting, fielding, mental and physical fitness. That would suit Hesson.
A little known fact is that Hesson already had international experience prior to Kenya and New Zealand. He coached Argentina in their failed bid to reach the World Cup finals in 2003. They won three games after previously being 0 from 31.
After the saga and bad blood of losing John Wright, Hesson can't take over soon enough.