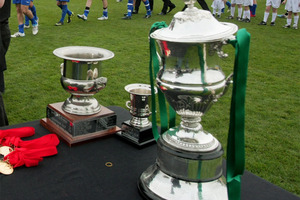 The Chatham Cup knockout football competition is one of New Zealand's longest running national sports events, having been contested annually since 1923. Tradition dictates that when your club is knocked out, you follow the fortunes of your victors - and in turn their conquerors - all the way to the final.
Join us on our own Cup odyssey this year, as we report on cup fortunes in a similar vein. We started with first-time entrant Hamilton's Clube Alegria in the qualification round, who were beaten 2-0 by Westlake Boys High. We then followed the schoolboys as they overcame Drury 4-1 in the first round, then Manurewa 7-2 in the second before their run ended with a 2-0 defeat to Birkenhead. We then followed Birkenhead as they overcame Wanderers 4-1 in the sweet 16 and we'll continue following their path (or whoever beats them) through to the final on August 25-26.
Qualifiers: Clube Alegria - New kids face off against schoolboys
First round: Big school vs little club
Second round: Divided loyalties
Third round: How good are Westlake Boys High?
Sweet 16 - Birkenhead's not so secret weapon
*******************
For the past two years Birkenhead United and Lower Hutt City have produced arguably the best two Under 19 club football sides in the country.

And now they're poised to press rival claims to being among the top four senior winter clubs in New Zealand for 2012 when they meet - for the first time - at Shepherds Park on Sunday, where a Chatham Cup semifinal berth is at stake.
The clubs have clashed in the last two finals of the Napier U19 tournament - with one win apiece - and this cup tie is shaping as an indirect yardstick as to which outfit has since made the most progress in the more unforgiving world of senior football.
There are a lot of similarities between the two sides: two pools of talented young players have been together since a young age, both sides have an average age around 19, and both camps hail this quarterfinal as the biggest match in their club's history.
And over-riding that is even broader bragging rights in terms of regional pride. Teams from the northern and central regions seldom get to play each other, making this a rare yardstick to judge the relative strength of the winter game in Wellington and Auckland - even if, as in this case, it involves a Birkenhead team playing one division down from premier level.
Twenty-year-old Birkenhead striker James Lawson - who has been with the club since he was 15 - said there was a pretty special feeling around Shepherds Park at the moment.
"I was in the Birkenhead teams that bowed out in the sweet 16 of the Cup for the last two years, and it has made making the Quarterfinals so much sweeter," Lawson said.
"Everyone was pumped up after our win last round because of our past results and we all knew how much it meant to the club. It was great to beat the voodoo of the sweet sixteen this year."
Birkenhead advanced at the expense of Northern Premier League side Hamilton Wanderers and Lawson said their 4-1 win was well deserved.
"We went 1-0 down then luckily got a goal before halftime, which was pretty crucial. Then in the second half we just ran away with it. Fitness is such a huge part of our team and our success, we train hard three times a week and I think that work showed through in the second half of the match. A lot of us could have gone on another half hour."
Birkenhead are having a year to remember and have supplemented their Cup run with exceptional league form - currently sitting atop Division One by three points and with two games in hand.
Lawson attributes some fundamental qualities as the reason they are having such a stellar season.
"Fitness is the core of our team, but the team spirit is very special too. Everyone is best mates and there's a really good vibe down here. You hear with some clubs that players are just there for the money but that's not at all what it's like here. Everyone has a great work ethic; everyone has each other's back."
Of course there are still a few "special players" in the squad.
"Everyone plays a part but we have our big guns too, like Big Bill (Bill Tulioma) - our big time Charlie. He's the youngest in the squad but also one of the best and he's doing really well at the moment."
Birkenhead club members drummed up support for their last round game by heading down to primary schools, helping the kids to create banners and encouraging them to come to the game. This weekend they are going a step further and have constructed a temporary stand along the side of the ground to seat what Lawson expects to be a bumper crowd.
"We probably had close to a thousand at our last game, and this time it's only going to be better. It's going to be big."
Lower Hutt coach Brendan McIntyre faced a late setback yesterday with goalkeeper Scott Basalaj called up to provide cover for the Olywhites in London.
But he believes his side has the talent to do it without their star goalkeeper.
"The bulk of our squad beat Birkenhead in the final of the Napier Under 19 tournament last year," said McIntyre. "They beat us in 2010, we beat them in 2011 and now we meet in the Chatham Cup.
"Our younger players are getting to an age now where they can make a really big contribution as well. So that has been where most of our strength has come from, because so many of us have been together for such a long time."
Lower Hutt sit eight points off the pace in the Central Premier League but have mounted an impressive Cup run, which included knocking over last year's finalists Napier City 2-0 in the last round.
"Napier beat us twice this year but we got them in the Cup. They were an experienced side and that win was just a great day for the club."
Lower Hutt have planned a smash-and-grab job, flying up the morning of the game and then jetting out again later Saturday night. McIntyre said he has no illusions of the task they face when they get there.
"If you go to an away game in the Cup and they have a big crowd and a young side it's going to be difficult. The upside to that is if you can win under those circumstances it gives you a lot of confidence in the next round."
McIntrye was coach of the Lower Hutt side that met Birkenhead in the final of the Napier tournament so knows what to expect.
"The first year they were too good for us and I think last year we were probably better than them in the final. Birkenhead are a good footballing side, they get it down and pass it and we like to do the same.
"I've heard it's a nice pitch there, so I Imagine both teams will try to get it down and pass it.
"Just being in this situation gives us a bit of credibility for all the work we've been doing down here and is one of the biggest days in the history of the club."
It's a curious thing at this stage of the cup, to be contemplating a battle of Youth versus Youth, and the certainty that one excited bunch of youngsters is guaranteed of qualifying for the Chatham Cup semifinals.
Sunday's game will mark a coming of age for one of these teams.
Birkenhead United v Lower Hutt City
Shepherds Park, Auckland, Sunday 2pm.
Tracking the Chatham Cup:
Qualification: Clube Alegria 0 - Westlake 2
Round One: Drury United 1 - Westlake 4
Round Two: Westlake 7 - Manurewa 2
Round Three: Birkenhead 2 - Westlake 0
Round Four: Birkenhead 4 - Wanderers 1