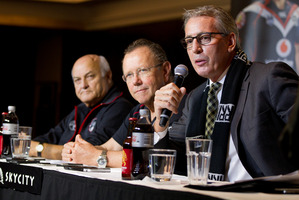 "You wanted Sonny Bill, didn't you?" asks Dean Bell, the Warriors' recruitment guru as journalists begin shuffling out of the room following the Warriors' big announcements yesterday.
We did - but we'd have settled for Luke Lewis. Instead, we got a rundown on the dreams and desires of Warriors Inc. Much of it sounds like good stuff.
But it's not the sort of stuff you can hold in your hand. Nothing tangible is on the table, other than a few bottles of beer, soft drink and water. Pick your poison and listen up, folks.
Mt Smart Stadium is to become a world-class sporting facility with all the trimmings - but the bulldozers aren't moving in just yet. They will do one day, though. As Eric Watson pointed out, he and fellow Warriors owner Owen Glenn are the type of men who get things done.
"We have the capabilities in this room, the financial wherewithal, the expertise on the board to fulfil this vision," Watson said.
"We are not saying we are going to do this right now, we are saying we are going to do it.
And we are saying we are going to need help."
Oh, help, you say?
Glenn is at his quirky best, but the message is the same.
"We've made a decision we are going to stay at Mt Smart," he said. "That is headquarters. Whatever is necessary, we have to put it in."
Awkward silence, presumably as those in the room try to figure out whether they will be part of the "we" putting in for a facility that Watson revealed would include "oxygen rooms and anti-gravity thingies".
Glenn expertly kills the dead air.
"If nobody will pay for it, I will," he says to palpable relief. "That's what you wanted to hear."
Sure was.
But third person Owen turns up and wrecks it for everybody.
"Owen is not willing and happy to pay for this," he says. "But if it is needed, he'll find a way to put it together. You're a bunch of bloody vultures."
Cue laughter. Glenn is speaking in quasi-jest - seemingly his favoured tongue - and he knows how to work a room.
He also knows the media, who have been lured to a press conference by a lineup that includes the full Warriors top brass (owners, senior management, coaching staff and even the video guy), will be a touch underwhelmed by the gift of a six-pronged strategic vision.
"Christ knows how I'm going to get 90 seconds out of this?" laments one TV chap.
"I know some of you came here expecting other announcements, like Owen was going to buy me out. I don't think even he can afford that," says Watson in an early indication the news value on offer might not be stratospheric.
SBW never shows, either, but there is the odd reportable thread. The club is committed to Mt Smart and wants to make it a world-class facility.
It wants to take games around the country to spread the love. It is forming a charitable trust to help young folks, plans to form an elite academy and will bankroll a secondary schools First XIII competition in Auckland.
It plans to open a shop and will increase its merchandising lines.
But it all comes back to Mt Smart. It's a dump, it needs doing up, and someone has to pay for it.
Or do they? "Let's be honest, Mt Smart has had no investment for a long time," Watson said.
"It is an embarrassment. It needs to be fixed.
"If it is fixed properly and the right commercial arrangements are in place it should be self-funding."
Owen will be relieved.