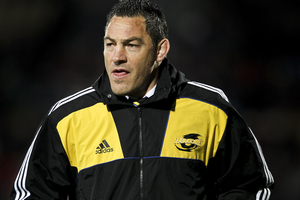 You could understand if Mark Hammett wanted to sit back and say "I told you so".
The Hurricanes coach copped more flak in the media than nearly anyone in the country last year as he cleared the decks of the franchise and endured a player exodus by a host of current and former All Blacks.
Rightly or wrongly, people suggested the former Crusaders assistant was trying to implore the values that made the champion Christchurch-based franchise so successful upon the yellow and black tapestry of the Hurricanes.
Hammett rode it out though, commanding that his men "empty their tank" every week on the field after they had gone through a gruelling pre-season campaign that focused on building a new culture in the capital.
They ended their season on a high with a thrilling 28-25 win over the playoff-bound Chiefs in Wellington last Friday night, but the Hurricanes were dumped out of finals contention as other results went against them during the final week of the regular season.
They finished their campaign in eighth - only one place higher than 2011 - but they reinvigorated their fan base and caught the eye of the neutral observer with their enterprising attacking play as a host of bright young players burst on the scene.
But, given the way Hammett has turned the side around, despite having the deck stacked against him, he has never taken a shot at his detractors and has resisted the urge to utter those four words, "I told you so".
"Nah, not really. First of all I'm disappointed we didn't make the finals series this year because we were close," Hammett told APNZ.
"But I'm really proud and satisfied with the fact that we got to the last week of the competition and we were in with a show. Not many, if any, would've thought that we would've been in with a show come the last week of Super Rugby, but we were and that's come down to a hell of a lot of hard work from management, from the whole playing team and leadership group, who were well led by Conrad [Smith]. So we can be pretty satisfied with this season and probably, for me, it's sort of like a foundation season now we've got something to build on."
Hammett's two-year contract has wound up with the franchise but it's a done deal that he will be back in Wellington next year given what he has brought to the team.
They struggled for consistency early in their campaign in 2012 but that was down to fielding a squad with plenty of rookies.
"I think we certainly made improvements in the latter half of our season from a defensive perspective," Hammett said.
"But it was certainly an area which I think probably let us down. But I thought also, that home games have to be won, or if not won, certainly points have to be dragged out of them and I thought if we improved on that it would've put us in a better position this year. But it's one of those things we need to learn from and we certainly got it right in the latter part of the season."
With player reviews out of the way, the management team are now in full swing as they look to build their side for 2013 and Hammett said he and his coaching staff would be on the look out during the ITM Cup.
"There's always going to be new names that are thrown up and I think it's really important you always leave places in your overall squad for those bolters."
Hammett pointed to youngsters in his ranks from 2012 who had been selected in the Hurricanes off their exploits in the ITM Cup such as TJ Perenara, Brad Shields, Reg Goodes and Beauden Barrett, which could serve as inspiration to players who are on the fringes of Super Rugby.
Charlie Ngatai appears to be one player who will be leaving the Hurricanes and he is likely to link up with the Chiefs, while there will be a handful of other players who won't be back in the capital next year.
That will open up spots for provincial players to prove their worth in the ITM Cup that will run from August through to October, which has a congested format like last year.
- APNZ