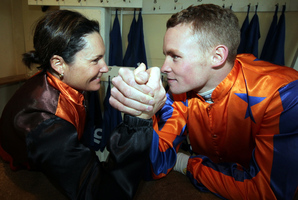 Champion jockey James McDonald's prolonged absence from New Zealand racing has provided Lisa Allpress with a dual boost in the battle for the New Zealand premiership.
Allpress extended her lead over Matt Cameron to two wins with victory aboard Ten Belles at Tauranga yesterday, taking her total for the season to 155.
That is a huge turnaround from trailing by 13 just six weeks ago and the yo-yoing TAB odds on the premiership now have Allpress as the $1.75 favourite.
She says her comeback from being so far behind Cameron has been helped by McDonald in two ways.
First, the superstar jockey being overseas has taken him out of the premiership race, and as well Allpress has borrowed McDonald's manager Garry Cossey.
The former form analyst for racing publications now books Allpress' northern rides as well as advising her on form and preferred rides at other meetings since she doesn't have an agent.
"Garry has been brilliant, especially with the northern contacts," Allpress told the Herald.
"And he really knows his form, too, which helps when you are riding at this many meetings. James actually suggested I get Garry to work with me last year but I am so glad he has been helping me out lately."
However, that does come at a price for the fiercely loyal Allpress.
"I'll admit I have been struggling with simply choosing the best ride, rather than being loyal to trainers and owners I ride for all the time.
"But I am in this to win and I might not get another shot at it so it is all about winners now.
"I just hope the trainers I can't ride for all the time understand."
Allpress says that while she leads by two she is not allowing herself to start mentally writing any victory speeches yet.
"It is still very close and we might have about 60 races each we can still ride it.
"Matt is riding well and he won't let me sneak too far in front."
Allpress says the dizzying merry-go-round of travel and riding is tiring but she can see the finish line in sight.
And she is confident she can ride at least two more winners at Hastings today.
"The way Thorn Prince [R6, No 2] won last start I can't see why he wouldn't win again," she said.
"And Prodigious [R5, No 6] is a nice filly who ran on well over 1400m last time so I think the step up to 1600m will suit her." But Allpress also knows the premiership won't be won or lost today.
"I am sure it will go down to the last day of the season and I am glad it is creating so much interest.
"I can tell you one thing, it is pretty intense being part of it."
Cameron, who rode two placings yesterday, also has a strong book of rides today and has had a great response from South Island trainers.
Like Allpress, he has a well-connected manager in Mark Claydon, who sees the South Island meetings to come as crucial.
"Matt has had great support from the South Island trainers and I think that could be where the title is decided," said Claydon.
"But Matt also has some good rides this week so we are still confident.
"But it is going to be very, very close."