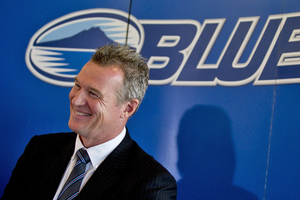 Every Thursday Sarah Daniell poses 12 questions to well-known faces.
Here's a sneak peek of her interview with new Blues coach Sir John Kirwan which will feature in tomorrow's Herald.
Who is the most difficult player you've ever played against?
David Campese would be up there. There would be some days when I'd say to myself, 'how am I going do this?' But I'd say mostly it was myself. I was always struggling to be the best I could be.
What derails your focus?
One of my weaknesses is taking on too much. I have to make sure I don't.
What quality do you least admire in others?
Arrogance.
If you could change one aspect about your personality or character, what would that be?
I'm pretty happy in my own skin. I'm changing all the time.
One of my goals is to keep changing.
What's your greatest strength?
I think I'm good at seeing the big picture. I know what I want and how to get there. But I also have an ability to change. And I don't like to brag about myself at all, but I'd like to think I bring the best out of people.
If you could have one other talent what would that be?
To play the guitar. I do play but it sounds like I'm kicking a cat around.
What's your favourite sport to watch on TV?
Soccer and rugby league.
Sonny Bill Williams - a loss to NZ or good riddance?
A loss.
What material thing could you never let go of?
There is nothing.
What does New Zealand need more of?
I think we're in a good place, from a multi-cultural point of view. We probably need more Europeans. More Italians.